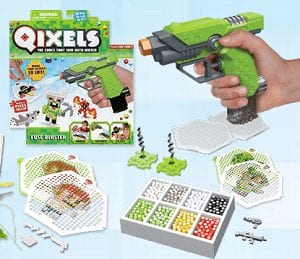 Although there is plenty to do for the kids outdoors in the warm weather, they don't always want to be doing something that is super active. For those quiet play times Qixels is most likely going to keep them busy by providing hours of fun.
Overview
Qixels is comprised of a whole lot of colorful cubes that are used to build pixel characters and objects. Once the creation is built it is set with a spray of water to bind it together. Once this is done then what the kids can do with their fused creations is only limited by their imagination.
The Claim
The company claims that the kids can build a ton of stuff with Qixels. They can use their imagination or follow the templates. They are saying it is really easy and there is no messy glue or heat needed to fuse the pieces.
The Hype
They have focused on what appeals to the kids in regards to the number of colors and the fact they can play with their finished objects without them falling apart, which is often the case with standard building blocks. For the parents, they have focused on the ease of use and no mess being created with the Qixels.
The Cost
The offer is comprised of what they call a complete kit. This includes two packs. One pack is the Fuse Blaster Pack, which contains 500 qixel cubes and a bunch of accessories. Then the second also contains 500 qixel cubes with other types of accessories. So for the complete kit you are going to pay $19.99 plus $9.99 shipping and handling.
The Commitment
You are definitely going to want the kids to play with this in a contained area as they will be handling 1,000 small cubes. You don't want these spilled where you are going to have to clean them up. It does include a fairly decent storage tray. Also, they are going to be spraying their creations with water so you want them to be playing in an area where the water can't hurt anything, if they happen to get carried away with their fusing of the constructed pieces.
Evaluation
Any toy that gets the kids thinking and spurs their creativity is a good thing. Building blocks have been a favorites of kids for eons, and this is just a modern day version of an age old concept. Kids also tend to like toys that contain multiple pieces and are comprised of bright colors, and Qixels definitely meets these needs.
Final Qixels Review
We're going to give the Qixels a Thumbs Up rating even though it is a relatively new product, and as such there isn't a lot of feedback as yet. We have partially reached this conclusion from looking at the positive reception that similar products have received. For example, Beados which is sold on Amazon uses beads instead of cubes but the basic idea is the same. There are mixed reviews but more positive ones than negatives. Also, cubes may be a little easier to work with compared to beads.
Our Recommendation
We encourage you to consider the age of the youngster that you are thinking of buying this for. While a lot of small parts are lots of fun, they can also be frustrating for little fingers. At the same time if you are looking for an interactive type toy where you can spend time with the younger ones, then Qixels may be ideal. An alternative to this and one that has already proven its worth, is the Lego line of building blocks.
What do you think? Does Qixels work or not?