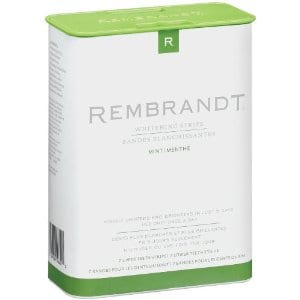 Rembrandt whitening is a well-known brand, and is a lower-priced alternative to many products out there. Whiter teeth is something that most of us want, but don't want to spend a fortune on. This means at some point we'll probably consider going with something like Rembrandt in the hopes that it will work. So let's see how it stacks up against its competitors.
Overview
Rembrandt is one of the few teeth whitening systems that finds shelf space in your local grocery store or supermarket. You can usually find it next to the Crest Whitestrips, wherever those are sold. They don't advertise is heavily as the other products out there, and appear to mostly try to compete on price.
The Claim
With their Deeply White 2 hour kit they claim that Nothing will get your teeth whiter more quickly. The system uses trays, and they're meant to mold to fit your teeth just like the ones dentists use. They are smart to put an asterisk and explain that they are not trying to measure up against the UV systems currently being produced by other manufacturers.
The Cost
The teeth whitening industry in general is rather expensive, because dentists have set the bar rather high as far as how much treatments cost. This allows product manufacturers such as Rembrandt to charge more than is really needed for their kits. It's also somewhat of a luxury item, and they know that people will buy it at these price points.
Rembrandt whitening systems are not very expensive compared to their competitors. This makes it a sort of entry-level tooth whitener that appeal to those that don't want to spend a bunch to get their teeth white. You can get their two-hour whitening kit for less than $10.
The Commitment
Your level of commitment will vary depending on which kit you go with. Some of their kits promise results within hours, while others involve multiple steps over multiple days. If you value white teeth highly, you'll have no trouble staying committed during the process, but if you just want quick results without much investment of time or hassle, go with one of their quicker kits.
Common Complaints
There is an overriding consensus that this product is dangerous and burns the mouth when used as directed. Many people have said that even after following the directions perfectly they still experienced severe burning in their lips and gums.
There are also plenty of positive reviews, but they almost seem too positive. There's no way that a product like this can get such wide-ranging reviews. If something burns the mouth this badly then there's no way someone could use it and experience perfect results. Perhaps if they said something to the effect that it burned their mouth a little, but it still got their teeth white, that would be one thing. But what we're getting is 70% of the people saying it burned their mouth, and 30% of the people saying it worked perfectly.
One user shares her experience:

Product Line
Rembrandt is one of the few companies that also has a lineup of products, rather than just being known for a whitening system. They also make toothpaste, mouthwash, and other maintenance products that you can use between treatments. They also offer different ways to apply their whitening kits, such as strips and trays.
Final Rembrandt Whitening Review
Rembrandt got the price right, but little else. Their system has been described as being messy, hard to apply, painful, and ineffective. We suspect there are some phony reviews out there designed to boost up its rating. This is one product you can safely avoid, and apply our money to something more expensive that actually works.
Some products that we recommend in place of Rembrandt whitening is Love That White Smile and the GLO system. You can also get a look at all of the different whitening systems we've reviewed, as well as an understanding of how whiter teeth have become so popular on our main teeth whitening page.
Our Recommendation
We recommend against using Rembrandt whitening kits, mostly because there are so many better products out there that don't burn your mouth, and don't cause any sensitivity to your teeth. The industry is rapidly changing and new products are evolving to meet those changes. It seems that Rembrandt is a few steps behind its competitors as far as technology goes. Low-cost is one thing, the quality and results are worth the price.
What do you think? Does Rembrandt Whitening work or not?