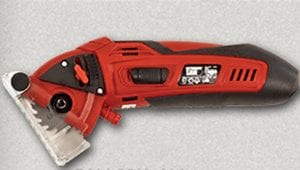 This is the time of year when a lot of "do it yourself" home renovations and repairs are going on. It also may be creating a need for a few new tools to get the jobs done. How about adding the Rotorazer to your tool arsenal?
Overview
The Rotorazor is being hailed as a seven in one tool.It is said to be able to cut through any material light or strong and it is really easy to use and handle.
The Claim
The promoters of Rotorazer claim it is a jig saw,circular saw, hand saw,band saw, tile saw,hacksaw and mitre saw all in one. If this is true and each of them can perform as they are meant to be then the Rotorazer is a big big money saver.
The Hype
The hype focuses around all the wants in a quality saw. The Rotorazer can cut many different types of materials such as ceramic, stone or steel to name a few. It is lightweight which is another bonus and of course so is ease of use.
The Cost
For the Rotorazer you will be expected to make 3 payments of $49.95 plus pay $19.95 for shipping and handling, so in total that is $169.80. It is a 400 watt motor housed within a construction grade chassis. The handsaw has the capability of cutting at 3400 RPMs, and it comes with three blades which are diamond, tungsten and steel.
The Commitment
While it is always nice to have a multi tool you are paying for this so you really need to ask yourself do you need all the types of saws that the Rotorazor is comprised of?
Evaluation
With the Rotorazer being so lightweight and versatile the promoters claim it can be used for a variety of projects such as for renovations or even by the hobbyist which makes it a little more appealing.
Final Rotorazer Review
We are going to give the Rotorazor a Try/Buy rating. If you really think you will use all of the versions then it would be a good buy. Also, if you are going to use it for both renos and craftwork then it would be a good investment. Do keep in mind that it has a 400 watt motor so you need to determine if this would meet your needs.
Our Recommendation
You really need to look at the specs and the power of the Rotorazer to help you make the decision as to whether this is a good investment for you. Consider the types of jobs that you will be using it for. If you had a use for all of these 7 types of saws that it is comprised of then no doubt price wise you are getting a good deal. In the past we have talked about a few other types of saws and some of them were not all they were hyped up to be, but one that seems to be pretty good is the Omni Dual Saw.
What do you think? Does Rotorazer work or not?