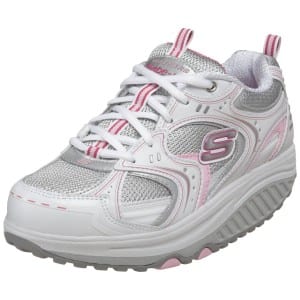 Wondering about all the fuss surrounding Shape Up Shoes and whether they actually work? A few years ago Skechers was making all sorts of claims about these shoes, how you wouldn't need to go to the gym again, and could fire your personal trainer. They've had to settle out of court at an estimated cost of 40 to 50 million dollars, due to false advertising. But they still stand behind their product so does it actually work?
Overview
The idea of slipping on a pair of shoes and going about your daily routine, all the while activating your leg muscles and getting a lower body workout was too much of a draw for many women, and companies like Skechers and Nike made a boatload of money from these type of shoes. The only problem is the gap between the claims they were making and the results people were getting. Also, there was very little in the way of validation of these claims through third party testing. All that was cited was a study conducted by a doctor that is the spouse of an executive at Skechers, and financed by Skechers. Not exactly what you'd call an independent study.
The Claim
The company is still allowed to claim that Shape Up Shoes can contribute towards an increase in the activation of leg muscles, increase the amount of calories you burn, improve your posture, and also reduce some of your back pain. This is still a pretty large amount of claims for a piece of footwear. However, judging from the feedback that it has received, some of them might be warranted.
The Hype
The hype was caused by all of the expertly produced ads showing women simply walking around during ordinary things, with the thought being that they were getting a workout in at the same time.
The Cost
Shape Up Shoes came at a premium price. You can get them now from anywhere between $50 to $100 at various online retailers like Amazon or Zappos.
The Commitment
The lack of commitment was the big draw to these shoes. They made it seem like all you had to do was strap them on and do things that you'd normally do, run errands, go for a walk, you could even wear them indoors and it would work the entire time, with every step. When compared against going to the gym and doing a strenuous lower body workout routine, or a long aerobic or cardio workout the difference was clear.
Evaluation
Even though they still say that Shape Up Shoes provide additional benefits for the user, they have also tamed down their promotional efforts, and make only basic claims, with disclaimers next to them saying that there is the claims have not been verified. It is interesting to note that by settling and paying the fine they do not have to admit any wrongdoing, and nor should they. A company is expected to put their product in a positive light, and a successful advertising campaign will often toe the line of going too far with claims.
The funny thing is, even though the FTC is cracking down on them for going too far with their advertising, most people say that they enjoy wearing their Shape Ups, and that they feel better after wearing them. It could be a case of some Big Brother action going on, where the FTC may have gone too far in protecting people. Sure, it's not good to make false claims about a product, but if the feedback is coming in positively, what need is there for a scientific study?
The reviews coming in on these are statistically significant enough so that they have to suggest the shoes are doing something. Perhaps they aren't a replacement for the gym, but nothing is really, that's why gyms exist. But as far as giving your legs a workout, and strengthening muscles that usually don't get any attention, the social evidence points to yes, these actually do work.
Final Shape Up Shoes Review
Shape Up Shoes may have gotten Skechers into some legal trouble, but apparently they aren't guilty of making a product that doesn't work, they just needed to tone down their advertising on it. Now that they've paid the fines, they should be forgiven, and their product deserves a second look without all the hype.
Scientific studies are pretty old school, dating back to a time when we couldn't tell people on the other side of the world what we think of a product. Nowadays the social proof is what counts the most. If 8 out of 10 people try something and like it, do you really need to wait around for someone to come around and do a study that confirms the results? If the feedback was reversed, if most people were panning the product in addition to the false advertising, then there'd be a real problem.
Our Recommendation
Shape Ups are worth a try as long as you don't go in with the expectation of having them give you a fitness overhaul. At the end of the day they're just a piece of footwear, so you have to give them a reasonable trial, and not expect them to turn you from fat to fabulous while you simply walk around all day. The nice thing is that because of all the negative press you can get these at a discount from their original price.
What do you think? Does Shape Up Shoes work or not?