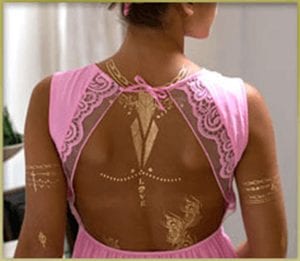 It used to be that one of the best ways to please our youngsters was to give them a package of stick on tattoos and they were kept busy for hours, and looked quite comical with their favorite super heroes temporarily imposed on their body. Now it seems there are are temporary tattoos for the big kids too like us adults, but some of these take on the form of very impressive designs and look just like jewelery. This is what Shimmer Tattoos is all about.
Overview
We often admire the various forms of fashion and beauty that different cultures bring to us. One that has brought a great deal of attention is Mehndi which translated means body painting with henna. The artists that perform this type of body painting are extremely skilled and talented. Now with a product like Shimmer Tattoos anyone can apply a similar type of art to their body with the simple application of the temporary tattoos. This product is comprised of a collection of Jewellery tattoos. There are specific ones for the ankles, wrists, ears, and other body areas as well as one head dress design.
The Claim
The company claims that the Shimmer Tattoos are easy to apply and will remain intact for as much as up to four days. They won't wash off with water, but are easily removed with baby oil. They are made with safe for the skin waterproof substances.
The Hype
Almost everyone wants to look beautiful, exciting and unique. This is what the Shimmer Tattoos seems to offer. They are beautiful to look at, exciting and fun to choose from, and are certain to be an attention getter. The Company's hype focuses around "designer", and for the fashion conscious individuals when they hear that word their interest is automatically peaked.
The Cost
The Company is presently promoting a cost of $10. + $5.99 for shipping and handling for the initial set of 25 Shimmer Jewelery Tattoos, and included in this will be a second set free, so in total you will get to enjoy 50 temporary tattoos.
The Commitment
You are probably going to have to experiment a little with the Shimmer Tattoos at first to get used to applying them. Or better yet you may want to get someone to put them on for you. You are going to want to get them straight depending on which design you are choosing, and this could be a little challenging if doing it yourself. Also, if it is your intention that your design be totally viewable, you may want to pick out the outfit that it is going to be worn with first, so you will know the exact location to place the tattoo on your body.
Evaluation
Doing something new and different like some form of body art can be fun. Especially when you know it can be easily removed. Recently there was a news article about how the business of removing permanent tattoos is booming. At least with the Shimmer Tattoos you won't have this problem. You as an individual will have to decide just how much of this type of art do you want to wear at one time. In this particular collection the designs are all related to jewellery. For a nice combination you may want to choose a necklace design,a wrist one, and even an ankle design to compliment the overall look. Now if you want to take it a step further why not add some pizazz to your nails with the Hot Designs Nail Art Pens.
Final Shimmer Tattoos Review
These temporary Shimmer Tattoos look like so much fun and are really decently priced that we are going to give them a thumbs up rating. They will only look as good as you want if you take the time to apply them properly. Keeping them in the perspective that they are a fun item that is going to give you a different look will ensure that you get the enjoyment out of them that they can create.
Our Recommendation
It is not likely that you are going to fool anyone who sees you wearing this type of bling, that it is the real thing, meaning a permanent tattoo or even real jewelery. Chances are those they are going to be attention getters and a real conversation starter. Perhaps if you are the type of person who like to just melt into a crowd and not draw attention to themselves then you will want to opt for one of the smaller designs, like the wrist or ankle wear. Otherwise, be bold and let your creativity and statement making flow.
What do you think? Does Shimmer Tattoos work or not?