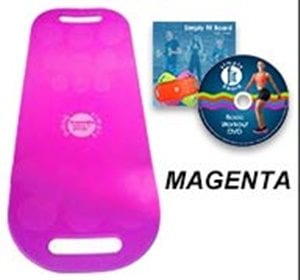 Now that the festive season is over, its time to get serious again and start focusing on getting into shape. January to May are great months for doing this and it gets your body shape perfect for the summer months. That is of course if you are committed to getting into shape, and if so then you may want to take a look at the Simply Fit Board to help you with this.
Overview
Nobody would argue over the fact that there are tons of exercise equipment on the market. Some is expensive and other types are huge and cumbersome. All of this is not a complaint when it comes to the Simply Fit Board. It basically looks like a skate board but it allows for some pretty nifty exercise moves that will surely enhance your fitness and getting into shape efforts.
The Claim
According to the promoters the Simply Fit board is lightweight, easy to store but will hold up to 400 pounds of weight. It is used to tone your abs and legs as well as your total core, plus it offers some balance improvement.
The Hype
The hype really focuses around this product being brought to fame through it's appearance on the Dragon's Den, and being supported by Lori Greiner. With this type of support its going to get the marketing hype that will soar its sales.
The Cost
For starters you will be paying $49.99 for the Simply Fit Board, plus $4.99 shipping and handling.Included with this will be the DVD workout plus a guide. But wait, there is more as there have been some accessories added to the offering to help boost the sales and which you may find beneficial but perhaps not really necessary. These include a Core & Buns DVD – which gives you greater insight into targeting these specific areas. Plus you can get a Workout Mat – 25.5" x 18" mat which protects floors and provides an ideal surface for your workouts. You can get these two items as a package for $24.99. or you can buy them separately.
The Commitment
Just like with any piece of workout equipment you are going to have to commit time to using the Simply Fit Board on a regular basis. Using it once in a while may make you feel mentally good that you are doing some exercise but it's not likely to bring you the results that you are looking for.
Evaluation
Overall the concept seems good for the Simply Fit Board because as the name implies it is simple to use and doesn't demand a major investment. It certainly is not going to give you all the exercise you need but it is a good starting point. Perhaps by encouraging yourself to start off with something simple and seeing some results will spur you onto more aggressive workouts.
Final Simply Fit Board Review
We are going to give the Simply Fit Board a thumbs up because we like the fact that it is a simple approach and something that would appeal to many that are not into strenuous workouts. The price is reasonable and it appears to be durable. Plus, it comes in some really neat colors.
Our Recommendation
If you are a beginner to exercise or someone with a busy lifestyle where you can't fit regular fitness routines into your schedule then the Simply Fit Board may be a great solution for you. If you want to expand your exercise regime with another piece of equipment that is also simple then take a look at the SR-1Rogue.
What do you think? Does the Simply Fit Board work or not?