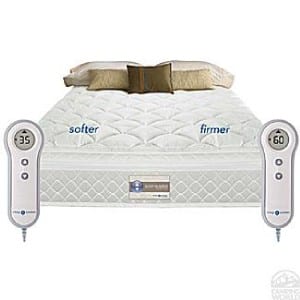 The Sleep Number Bed tries to tackle the age-old problem of one partner like a firm bed, and the other a soft bed. The two sides are meant to finally be able to agree, each having their own control of the firmness setting. The thought is, you find your perfect setting and get the same experience night after night. But how does this actually work, and does it deliver on its claim of reducing domestic unrest?
Overview
The way it works is each side of the bed is self-contained with its own inflatable and deflatable mattress. The system is controlled by remote, and each person has total control of their own setting. You increase and decrease the firmness, and the bed will let in more air or let some out, depending on what you're going for. That's the idea, but at this point many people have tried a Sleep Number Bed, so there is plenty of feedback and you can get a clear idea of whether this will work for you or not.
The Claim
Select Comfort says that you get individualized comfort, and that their Sleep Number Bed is a total sleep solution. Most people feel that they do not get restful sleep, or even if they do that they could sleep even better if they had a better mattress, or were more comfortable. Combine that with all of the people out there with sore backs, aching legs, and kinks in their neck, and you've nearly got an epidemic of sleep-starved potential customers that are ready to buy something like this.
The Hype
Sleep Number Bed does a lot of advertising, and of course they have the actors posing as happy customers, gushing about how great it is to finally find a mattress that both partners can agree on.
The Cost
The cheapest Sleep Number Bed you can buy new is their Queen sized Classic at $1000. That's just getting started, and they go all the way up to $4000 for their most advanced model with all the bells and whistles. If you go with their free trial, the shipping cost will vary, but is usually around $200 each way.
The Commitment
Aside from the financial commitment, all that is required is replacing your old bed and mattress with a Sleep Number Bed, finding the right number for you, and that's it. It can be fun using the remote to find out which firmness level you like. You've likely never had a bed that you can adjust, and previous mattresses probably made you adjust to them.
Evaluation
For the price, you'd think that these beds would be made of high-quality materials, and basically be at a luxury-caliber as far as functionality goes. The general consensus is that they aren't made as well as they could be made, with common complaints being that the remote controls do not function properly, they way they're shown to in promotional videos. There's also problems with the bed not inflating or deflating properly.
Others say that the bed works like a charm, and they've gotten the best sleep they've ever had on them. Sleeping is such a deeply personal experience, and most everybody has their particular way in which they like to fall and stay asleep. This means that it'd be nearly impossible to design a bed that gets unanimously good reviews. Also, when you sell as many beds as Select Comfort does, there's bound to be a defective one here and there.
What People Are Saying
Some people have likened the Sleep Number Bed to a very expensive, fancy air mattress. It's hard to deny that the basic premise of this bed is that it inflates and deflates to find the desired comfort level. Some of today's better air mattresses include their own automatic pump and automatically inflate, as well as provide a good night's sleep, so the similarities can't be overlooked, especially when you're considering paying $1000 to $4000 for a bed, and the most expensive air mattresses are around $100.
There are plenty of consumer complaints in regards to the quality of the bed you receive, as well as numerous complaints about their 30 day free trial. Apparently it costs a good chunk to get the bed delivered, and if you don't like it you will be charged to return it. Of course, most trials are designed to get the product into your home in hopes that you don't bother with the return process, even if you're not totally happy with it. In this case it just happens to be a rather large purchase you're trying out.
Others complain that they have to replace the interior air chambers that the bed uses to provide support. If you blow a hole in one, your bed won't work anymore, obviously. This can be a big inconvenience, because you won't be able to use your bed while you wait for a replacement, and you could even be charged to have them replaced, depending on how long you've had your bed.
Final Sleep Number Bed Review
The overall consensus is that while the company tries to bring a quality product to market, they fall short. They also don't come through with their customer service. For the price you are paying you shouldn't have any concerns about getting a good product, and having good service behind it. It seems that this is one of those instances where they've grown too fast, and have started to slip up.
Our Recommendation
While it is a novel idea to be able to control each side of the bed, it would probably be easier to find a bed that you both can agree on. There are memory foam mattresses that are both soft and supportive. These mattresses also allow you to use the full length of your king size bed, instead of splitting it into two like the Sleep Number Bed does. IF you're still bent on trying it, be sure to lay down on one in person at one of their showrooms before making a decision.
What do you think? Does a Sleep Number Bed work or not?