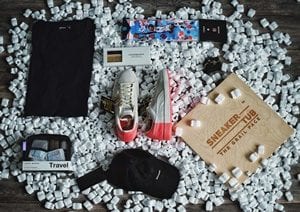 Nowadays there is just about a club or subscription for everything. But one thing that was missing until recently was one for sneakers. Now one may think that such a subscription may not be all that popular. But Sneakertub has changed all of that.
Overview
Sneakertub is a subscription that focuses on sneakers. Although other items are added to these well that are sneaker appropriate. It is a membership club. Each month subscribers will receive a sneaker package in the mail. It is one that is loaded with some very impressive items. Of course it includes sneakers, but a lot more.
The Claim
The promoters of Sneakertub claim that the products contained in the packages are of the very best of quality. The majority are comprised of top quality products. The sneaker brands include Puma and Adidas just as an example. The clothing is no less impressive as well as all the other accessories that may show up in an order.
The Hype
The hype around Sneakertub is the convenience of online shopping with no effort. Plus the reasonable pricing. Especially when one sees the famous brands that are included.
The Cost
The cost for Sneakertub is really going to vary on a couple of factors. One is which subscription one is subscribing to. The other will be on the packaging chosen. For example, sometimes the packaging may be comprised of a really neat wooden crate. Pricing  for Sneakertub will also depend on whether one is ordering from the US site or the Cdn. Site. An example is the latest arrival which is the Limited Edition Grail.It doe not include the crate and sells for $129.99. It contains one pair of quality sneakers (name brand) a premum tee shirt, and a premium dad hat.Plus a pair of quality socks and a shoe cleaning kit. Also a drawstring bag. Not bad for the price.
The Commitment
The commitment for Sneakertub is going to be staying on top of the Sneakertub membership. There is the opportunity to cancel any order before it is delivered. However, usually they are not refundable or returnable. So members really want to stay on top of this, if they don't want to receive a package every month.
Evaluation
We suppose that Sneakertub is a good idea for those who don't want to be bothered with shopping and personally picking out items such as this. At first this may be a novelty but there is a fear that this may soon wear off. However, for those that want to buy all their family members a gift this may be the ideal way to go about it.
Final Sneakertub Review
We are prepared to give Sneakertub a try/buy. We have no doubt about the quality of the items. Nor do we dispute the reasonable pricing. Our only issue is that it may be a novelty form of shopping and the intrigue will soon wear off.
Our Recommendation
If you are not sure if clubs and memberships are really for you, then you may want to check out what we had to say about them.
What do you think? Does Sneakertub work or not?