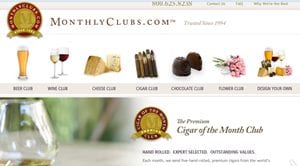 Most people want to make quality purchases no matter what they are buying. Often it is not lack of money that prevents them from doing this, but it is lack of time. Monthly Clubs may be the perfect solution for the busy shopper who wants to buy top quality favorite items for themselves on a ongoing basis, and for gifts as well.
Overview
Monthly Clubs is not a new idea concept but it does have a great approach. Instead of dealing with just one product through a monthly club like wine for example, you get to choose from a collection of products like beer, wine, cheese, cigars, chocolates and flowers. You can choose whichever club appeals to you, or mix and match.
The Claim
The Company acknowledges there are plenty of other online clubs that give multiple selections, but Monthly Clubs feels they are the best because they are well established and have been in the business of offering not only good products, but excellent services for many years. The flexibility they offer is one of their best attributes.
The Hype
Convenience, quality, and good service are the best way to describe the hype that surrounds the offerings of Monthly Clubs, and you can also toss in reasonable pricing as well.
The Cost
The cost is going to vary depending on the particular club you choose from the Monthly Clubs selection.For example, the Chocolate Month Club starts at $34.95 plus $14. shipping and handling.
The Commitment
There are a couple of factors that you have to keep in mind when you join this type of membership.You are going to have the convenience of having the products delivered right to your door, or wherever you want it sent if this is a membership gift. At the same time each club will likely be running monthly promotions which you may want to take advantage of. They will also be adding new products to their line. So what all this means is that you are going to want to review whats new, or make changes to your monthly order which means visiting the site at least once a month.
Evaluation
For those with a busy life style this form of membership shopping is ideal. It is also meant for those shoppers who really want to make purchases either for themselves or as gifts that rate for top quality. You can buy chocolates anywhere, but being able to buy premium chocolate that is well established for its quality can mean a lot of shopping around. This is just one example, and wine choices and buying is another.
Final Monthly Clubs Review
We are going to give Monthly Clubs a Thumbs Up Rating, based on several factors. As said, there are a lot of other multiple monthly clubs,that each have some great offerings that vary. When you compare the popular ones to Monthly Clubs, this particular one offers the most benefits. The second factor that was important to us is that they have been in business for over 20 years. They have also earned a A+ rating with the BBB.
Our Recommendation
If you haven't tried monthly club shopping as yet then it may be well worth giving it a try, and starting with a Company like Monthly Clubs that has accumulated all of the best advantages when it comes to this type of shopping. There are two ways that you can put a monthly Club to great use. You can use it for your own needs. For example, if you really enjoy a good selection of cheese, then why not have the best of the best delivered to your door. You can use your orders for gifts, or you can even give a starter membership to any one of the clubs as a gift. In the past we talked about membership clubs like this, called the Tasting Room but it was reserved just for one product.
Official Website: Monthly Clubs
What do you think? Does Monthly Clubs work or not?