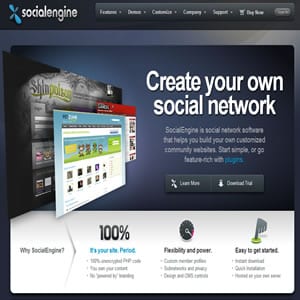 If you've wanted to be the next Mark Zuckerberg you've probably thought of building your own social network and considered SocialEngine as the way to get it done. This is a platform that promises to allow you to offer robust social networking capabilities to your visitors, allowing you to create your own public or private group of like-minded individuals. But how does this solution stack up to the competition, and is it better than just starting a group on Facebook?
Overview
Social networking is still on the rise, and although it seems to have boiled down to mostly Facebook, Twitter and to a growing extent Google Plus, there still could be room to add your name to the hat, especially if you're in a specialized niche with fanatic and passionate followers. Seth Godin in his book Tribes said that people always want to join new tribes and that it doesn't matter how many they're already in, if they see a new one they like they'll want to be part of that one too. This means that even if someone is already signed up with Facebook, they'd still join your network, if it's something they're interested in or passionate about.
The Claim
SocialEngine claims that they help you build your own customized community websites, but allow you to own and keep all of your content, without branding your pages with their logo. This can be an important factor as you don't want your visitors seeing that you're using a software package to maintain the site. By branding your pages with your own logo and not showing a "powered by" or "hosted by" credit, you give yourself more credibility of being a legitimate entity.
The Hype
Of course the demos and screengrab examples they show are of sites that have incorporated a great looking design along with the functionality that SocialEngine provides. This could give you the false idea that your site is going to look like the examples after you install the software. If you want things to look good and you aren't a graphic designer yourself, you'll want to hire one in order to help sync up the look between your main site and your social site.
The Cost
It's $300 for the license on one site. You can buy every plugin they make for an extra $370. If you want it installed it's just $30. So for $700 you can buy everything they make and have it all installed. If you factor in about $300 to have a designer make it look good for you, you can have a fully functional, good looking social networking site for $1000. Seeing how they're projecting Facebook to have a $100B valuation on their IPO, that might not be the worst investment you could make.
The Commitment
There is a bit of commitment to using SocialEngine, especially if you want to customize it to make it look pretty and make it look like something people would actually want to sign up for. You also have to commit to getting people to use it, because nothing kills a social section of your site more than not having anyone socializing on it.
If you're not computer savvy you might not be too familiar with terms like PHP or having something hosted on your own server. If this is the case you should get someone to manage SocialEngine for you, or plan on spending some time learning how to set this up on your own.
Evaluation
The platform is similar to Facebook, but not exactly like it. People would be familiar enough with the different features, and know how to use everything, without automatically thinking that you just ripped off Facebook. There are some pretty cool plugins, like the Forum plugin that turns your social site into a full on forum. They also have a music plugin that lets you do one better than Facebook, especially handy if you are in the music niche at all.
The only thing you really need to consider is whether it's worth the time to set this up and bring traffic to it, or whether you should just set up a group on Facebook and advertise that through your site. Some people are hesitant to sign up for another social network when they're already a member of so many. Since the majority of people will already be signed up for Facebook it's far easier for them to join your group than it is to set up a new account at your branded site.
Final SocialEngine Review
You can't go wrong with a fully free 30 day trial of SocialEngine. The kicker is they let you play around and use every single plugin they make so if you get attached to one you're more likely to buy that plugin when the trial is up. The only real danger of trying it out is getting sold on it. But compared to your other options of a social site hosted on your own servers with no branding and no monthly fee, it's not the worst decision you can make.
The reviews have been good for SocialEngine, and the support has been praised by those that have used it. Going the free route on something like this means you won't have anyone to turn to if something goes wrong with your site, and you'll have to rely on other members giving you their own advice.
Our Recommendation
If you do end up going with it after the trial ends, we recommend getting at least the Photo, Video, and Mobile plugins for it, because this is what people are into, they want to share their pics, vids, and be able to access your site while on the go. We also recommend getting the installation package if you're not used to installing this sort of software. It will save you several hours and a lot of trial and error. It's easy for someone that does it all the time, which is why you should let them do it for you.
What do you think? Does SocialEngine work or not?