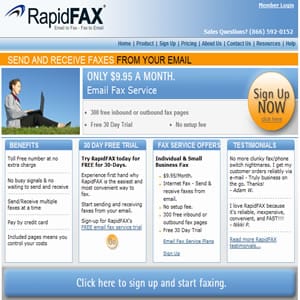 RapidFAX seems to be trying to bridge the gap between email and traditional faxes. One day kids will probably ask their parents "What was a fax?" but faxes used to be state of the art, and still find their way into certain business or legal transactions. It seems like when you need to fax something, there really aren't a lot of options, unless you have a fax machine. So is RapidFAX something that will allow you to circumvent the need to buy or locate a fax machine, and is it worth the money?
Overview
Most times you need something faxed these days it means a trip to your local FedEx Office to use their fax machine. But what if you find yourself needing to send multiple faxes, multiple times per month or week? At that point you'd spend far too much in gas and hassle just to send a few documents, not to mention the inflated fees that are charged in order to fax these documents.
The Claim
RapidFAX claims that you can both receive and send faxes right from your email. They also say that you get a toll free fax number included with no additional charge. With their system you won't get any busy signals, which is basically the bane of faxing stuff the old fashioned way. This way you won't have to wait to send and receive a fax, just hit send and it's gone, and it shows up in your email just as soon as it can.
The Hype
The hype is that faxes are pretty much on the way out in regards to being relevant in today's society. Most times you can get away with emailing a PDF attachment and most places prefer this as a paperless way of handling documents. But you know your business and your own needs best, so if you feel that this service is worth it, or makes a part of your life or business easier, then go for it.
The Cost
They have a basic plan that coveres most individuals and small businesses. It's $10 a month and doesn't involve a set up fee so you're able to get started right away on the cheap. This includes 300 pages of sent and received faxes, which is plenty for most start up businesses and for personal use.
The only thing you have to weigh this against is the cost of getting a dedicated fax machine for your home and office. You'd also have to get a phone line for it, unless you want to disconnect your home phone in order to send a fax. Many of us don't even have a home phone line, or get our home phone service included with out cable and Internet. So at $10 a month to fax as much as you really need seems like an easy way to do it.
The Commitment
You're not tied in to any long term commitment with this, it's not a contract and it's paid month to month so you can cancel at any time if you feel that you're not getting enough use out of it to justify the expense. Getting started with it is easy enough, as it only entails basic skills, and if you can use an email platform you'll have no trouble getting going. Compared to using paper faxes this can definitely be seen as being easier to use, with clearer, better results.
Evaluation
Some small business still use faxes to communicate with other small businesses, either to send advertisements and promos, to fax over lunch menus if you own a restaurant, or to send over copies of original documents. In some legal instances faxes are acceptable forms of copies and the only way you can send something legally. There are also still some companies that allow you to fax orders in. Whatever the reason for using faxes, as long as you have a phone number to fax to, you can do it with RapidFAX.
Receiving faxes is even easier. Just give out your toll free fax number and they start showing up right in your email. You can view them just as easily as you view your other message. If you want to send a fax reply you can do so right from the interface in your email. They've really made it easy to do, and you don't have to install complicated software or use their website in order to have it work for your business or yourself.
Final RapidFAX Review
RapidFAX works as described, so it's really a matter of determining whether it's something you need, either for yourself or your business. Taking it for a test drive and seeing how you like it is really the best way to know for a fact whether it is something to stay on with. Within 30 days you will definitely know if it's an asset to your business, or if you need to find a different solution.
Our Recommendation
We like it when busiensses let you try out full versions for free. We like it better when they don't make you enter your credit card details, but in this instance we didn't hesitate to try them out because they have a dedicated cancel page if you decide you don't like it. You can even cancel any time during your 30 day trial and you still get to use the remainder of your trial.
What do you think? Does RapidFAX work or not?