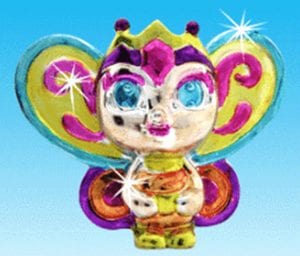 Sparkleez is another nifty project for the kids that no doubt once your kids see what it is comprised of, it is going to peak their interest.
Overview
Sparkleez starts with a collection of wonderful characters and accessories, that your youngster gets to paint and decorate with the color wands that come with the kit. Twinkle Town is the name of one set and is made up of the twinkle town tree, Princess Petal and her 5 friends. Then there is a bonus collection called Snowberg. In their initial form they are colorless and your young one gets to color them with the special color wands that come with the set. When they are finished they have their very own customized collection.
The Claim
The company claims that these will soon become collectibles for the kids, and they can color them over and over again. So its not something that they only get to do once, and then they are done.
The Hype
Kids love small characters, and they love anything that is interactive and allows them to show their imagination. Sparkleez has met both of these demands.
The Cost
For a total of $27.98 (includes shipping and handling0 you are going to get the Twinkle Town set, and as a bonus the Snow-Berg Ice Cave set. Each individual Sparkleez set includes 11 Sparkleez figures, 2 Princess displays, 11 Magic Color Wands, 1 Eraser Wand, 1 playmat and instruction sheet.
The Commitment
You might have to work with your young one at the start to show them how to go about coloring in the different sections on the pieces. After a few seconds of your demo they will surely want to take over, and you will be the one sitting and watching.
Evaluation
This really looks like fun, and it really does allow the little ones to be creative, and complete something that is unique to them. They will want to show off their completed pieces to their friends. Then when they get bored they can start the coloring process all over again.
Final Sparkleez Review
We're going to give the Sparkleez a strong try/buy rating. The only negative aspect about the product is, the color wands are eventually going to need replacing. The company has provided a number that you can call for this. It is also important that you check out the fact sheet concerning the product. There is a lot of extra information that you should know before you decide to buy. For example, the paint sticks are permanent markers so watch the young ones closely as to where they are using these. Plus there are extra instructions for removing the colors when the kids want to start over, and this may require some adult supervision.
Our Recommendation
Sparkleez is one of those children's products that we class as a multi-use one. These means that it is going to benefits the kids in several different ways. First they are able to be creative with their hands on decorating of the pieces. Then they get to play with them using their imagination. Then they get to start all over again. We took a look back at some of the other interactive toys that we have talked about in the past, like Wonder Forts is one example, and you may want to do this as well to see what other ideas there are to keep the kids happy.
What do you think? Does Sparkleez work or not?