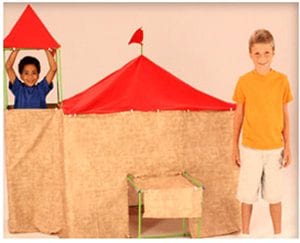 By now the Christmas toy selection is beginning to lose it's intrigue and you may be looking for something new to entertain the kids. We thought you may be interested in Wonder Forts because they just may fit into those special collection of toys that never grow old.
Overview
Wonder Forts is basically a collection of poles that can be joined together in many different combinations to form the framework for a fort. You just need to supply the sheets to make up the walls. Now any parent will admit that at some point in time they have been involved in fort making in the living room or playroom for the kids. There is just something about building a fort that never grows old. It doesn't matter what the weather is doing outside, an indoor fort has the makings for providing tons of fun for hours at a time.
The Claim
The company claims that putting the rods together for the forts is quick and easy and there are lots of different designs that can be used that are appealing to both the girls and the boys. The examples the promo material shows is really quite amazing. Having to supply your own sheets is no big deal, but they really are going to be the attention getter when it comes to building the Forts. The rod structure itself is not going to impress the kids. So try and gather us some bright solid colored sheets for this.
The Hype
If you have ever made a Fort inside your home for the kids you well know it usually means moving a ton of furniture around to use as support for the sheets that make up the walls. This part is no fun, and before long you want to get the room back in order so the fort fun has to be brought to an end. The Company really zeros in on how convenient their selection of rods will eliminate this. You can leave your Fort up as long as you want, or tear it down and make a completely different one.
The Cost
Wonder Forts cost $19.95 plus $7.95 shipping fees. The kit includes 41 rods, 34 jacks,and 25 clips plus a design idea book. If you want to add an extra $4.95 to your order you will get a second kit free.
The Commitment
You are going to have to help your young one set up their fort as you will need to join all of the rods into the chosen design. You might want to plan on doing this in a room where it can be left set up for a period of time. The kids are probably not going to want it taken down any time soon, and when they do then they will probably want to replace it with another one of the exciting fort designs.
Evaluation
Wonder Forts really is a nifty product, that makes Fort building lots of fun and super easy. It is a great way to pass the time indoors during the cold winter months, but is going to work equally well when spring arrives and the kids are ready to be outdoors.
Final Wonder Forts Review
We are going to give the Wonder Forts a Thumbs Up rating. It is good fun for the kids, and a great interactive toy that includes the parents. Not having to use furniture to build a fort is a big bonus. We are always in favor of interactive toys, just like when we talked about the Stretchkins which keeps the kids busy with exercise. These types of toys are great for keeping the kids from turning into couch potatoes.
Our Recommendation
We really do recommend that you take advantage of the 2nd offer. When other kids see what your kids have they are surely going to want one. If any of these have a birthday coming up, then you have just found the perfect gift.
What do you think? Does Wonder Forts work or not?