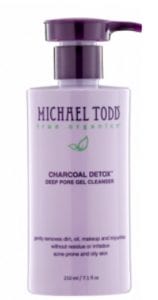 With the weather the way it is you may not believe that spring will soon be arriving. Now is the time we should be working on getting our skin back into shape after a rough winter. Is organic skin care the best way to do this?
Overview
There are tons of organic skin care products on the market and thanks in part to a huge marketing budget many of them are very well known. For those that are really into their skin care the priority is does the product work, and not so much as the brand name. We wanted to look at what we feel is a really good organic skin care line that has some substance to it, so we chose to look at the Michael Todd line of products.
The Claim
What attracted us to this particular line of skin care was the company's tag line "where science meets nature". This is a powerful punch line and we wanted to see what was behind it's meaning. The founder of Michael Todd is Lewis Hendler, who was also a co-founder of the famous hair Scunci. Lewis's approach to skin care is the organic approach with the combination of anti-aging and blemish healing compounds, making sure all of the potentially harmful skincare ingredients have been omitted like parabens, for example.
The Hype
They hype for the Michael Todd skin care line all focuses around information of what the products are comprised of and what they can do for you. There is no emphasis put on appealing to the fears of the users who are afraid that their skin is aging. One of the unique offerings of some of the organic skin care products in this line is they don't use water as their main ingredient. If you look at the labels of your present skin care product chances are you will see water listed as the first ingredient. Instead the appropriate Michael Todd products use aloe vera as their first ingredient and as the base for the other ingredients.
The Cost
One would think that an elite and impressive line of organic skin care such as this Michael Todd line is, that it would be extremely pricey. Especially with the caliber of ingredients that they possess. A good example is the Ageless face and neck cream that sells for $95. If you are thinking that this is pricey then perhaps you haven't seen the ones that sell for over $300. with leading brand names tacked onto them.
The Commitment
If you are really tired of paying good money for middle of the line organic skin care products that are okay but just aren't spectacular, then maybe its time to really look at a skin care line that is a little more detailed in what it does, rather than what it says it will do. The important thing to remember is that everyone is unique, and when it comes to your skin it is unique too, so the results from any product are going to vary. The goal is to give your skin the best chance possible to benefit from a skin care line that possesses what your skin may need. While a lot of people suffer from premature aging or natural aging how the skin reacts to this can be different. You may want to start off with a test of the Michael Todd skincare line by choosing just one product, then really analyzing the results. Keep in mind though that sometimes one product will enhance another. Whichever product you choose to test make sure that it is one that is applicable to what your skin needs, so you have some results to analyze.
Evaluation
Everyone needs to cleanse their face. The Honey and Oat Deep Pore Cleanser may be the ideal organic skin care product for you to begin with. It is effective as a makeup remover as well as for deep pore cleansing. It is very reasonably priced and would serve as a great introduction product to familiarize yourself with this skin care line.
Final Organic Skin Care Review
We are going to give the Michael Todd skin care line a thumbs up rating. We have done this based on the personal interest that has been put into it by it's founder Lewis Hendler. We really like the fact that water is not the main ingredient of all of the products. Finally we like the honesty that is put into the promotion of the "organic" sector of their line. There is no play on words,and they are totally up front as to how much organic each product actually possesses. They always strive to stay as organic as possible, but in reality to be 100% organic and fully effective is not all that possible.
Our Recommendation
If you really are looking for a change in skin care or you are ready to try something new then we recommend that you take a really good look at the Michael Todd line, and give it a chance. You may also want to check out what we had to say about another organic skin care line called Organic Complexion so you have something to compare to.
Official Website: Michael Todd
What do you think? Does Organic skin care work or not?