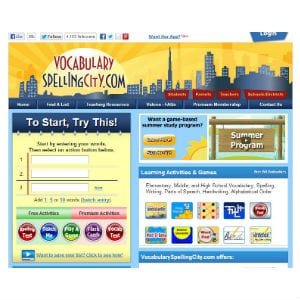 Spelling City is a resource for parents and teachers that helps teach students and children new vocabulary and spelling. It seems to be able to make the process of testing and grading spelling and vocab tests much easier, but what are users really saying about it?
Overview
It can be tedious and tiresome having to check and grade numerous spelling and vocabulary tests, so it's no wonder that there was a ready market of teachers as well as home study parents that wanted something to make it easier and more efficient, as well as more effective.
The Claim
The creators of Spelling City claim that their suite of resources will help students learn word lists faster and with less wasted time than with other methods. They say that their tools are set up so that they're easy to use for adults, so you'll be able to quickly whip up tests and quizzes with the exact words that are being studied in class, and the software will make it so you don't have to be present for each child to use it.
The grades go from Pre-K to the 12th grade so the assumption here is that no matter how basic or advanced the class or the child you'll still be able to teach them in the same manner, only increasing the difficulty of the words being used.
The Hype
There isn't too much hype involved here because the people that are going to need this site already know what it's like trying to teach spelling and vocab, and know that there has to be a better way. This is presented as that better way, and one that is a win-win for everyone involved.
The Cost
There is a free version of Spelling City, and an upgrade to the premium version as well. The pricing structure for the premium version is as follows: Parents can teach up to 5 children for $30 for the year. Teachers that have up to 25 students pay $50 for the year, and it's an extra $1.95 per student per year if you have more than 25 students. There are discounts that kick in if you are at a larger school and need several hundreds or thousands of students to use it.
There's a 30 day money back guarantee in place to make sure that both you and the students or your children are happy with the software.
The Commitment
You'll need to commit to learning to use the site to suit your needs and objectives, and to present it to your students or children in a way that gets them engaged with it and preferring it over other teaching methods. It seems rather easy to learn the behind the scenes steps to make tests and games, but you'll still need to invest the time to become adept at it.
Evaluation
The way they have Spelling City set up is pretty intuitive, and they allow you to change things up depending on what you're trying to accomplish. You can give your students a test if it's test time, which means you won't be burdened with how to make the test, and the best part is you won't have to go over them with a fine toothed comb either, as it will grade them automatically for you. If it's learning time you can make things more fun by putting it in the form of a game. In this case you won't be tasked with trying to come up with game ideas, or figuring out how to facilitate the game because it's all done for you.
You can find other free resources online to help with spelling and vocabulary, but from our experience it's not as polished as what you'll find at Spelling City, and it's nice to have all of your resources in one spot rather than having to use different sites for different features. Checking on the feedback it's been getting, the reviews seem to be mostly positive, ignoring the testimonials and obvious shill reviews you're still left with a chunk of positive ratings for it and it appears to be a crowd pleaser, both with teachers and parents as well as students and kids.
Final Spelling City Review
Spelling City offers plenty of value at their free level, and even more at their premium level, and they are getting our Thumbs Up rating. All of the resources we tested out worked like a charm and they have all of the basics covered, as well as several ideas that are clever and should get kids more interested in learning their vocab words and checking their spelling accuracy.
Our Recommendation
In a world where spell check and autocomplete is largely making spelling skills irrelevant, it's still a good way to get kids to learn new words and increase their vocabulary. Being able to listen to the words being used in a sentence is a nice feature since you won't be the one that has to repeat the same thing over and over again. And that's just one of many great features.
What do you think? Does Spelling City work or not?