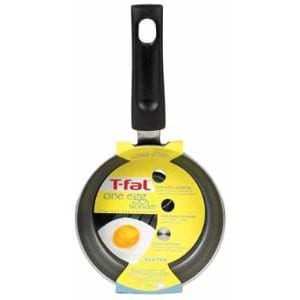 T-Fal has been around for a long time and was one of the first frying pans to wow people with its nonstick cooking abilities. The secret is in the Teflon coating, which virtually makes nothing stick to it. The problem is that this coating can wear out over time, get scratched off, and even burn off at high temperatures.
Overview
It can be argued that the frying pan is the cornerstone to a well-stocked kitchen. Almost every recipe you encounter will need to use it. It can be used to make entire meals, like the sauce for a spaghetti, or it could make a main entree, like scrambled eggs for breakfast, or it could be used just to prepare ingredients for use in other dishes like sauteing vegetables that will later go into a bigger pot.
The Claim
Tefal doesn't make a lot of claims about their cookware, and most of the features and benefits are already known by the mainstream. That's one thing they did manage to do was make their brand a household name. Most everyone associates T-Fal with being non-stick, and they were the first to sell this benefit on a wide scale about a decade or so ago.
The Hype
There was a lot of initial hype with the T-Fal Non-Stick pan, but most of it has worn off, and now most of the hype is in the new line of "green" pans like Orgreenic, that use safer materials but still have the same nonstick capacity.
The Cost
The cost of a T-Fal non-stick pan is pretty competitive these days. When it first came out it sold at somewhat of a premium price, but nowadays you can get it for under $30 with free shipping.
The Commitment
If you go with this frying pan, you simply need to replace your current pan with it. You should immediately notice the difference in how well the non-stick action works, especially if you're moving from a cast iron skillet, or a stainless steel frying pan. You will want to be careful the first few times you use it, as cooking times will be different due to the way that it transfers heat evenly across the pan. As a cook or a chef you adapt to the pan you're using and come to learn how long certain foods take at certain temperatures. These same foods might take considerably less time, so be careful you don't burn anything.
Evaluation
No one can deny that T-Fal makes a high-quality non-stick pan. They consistently get good reviews in regards to how evenly they cook food, and how easy the food comes off. They're also a breeze to clean. If you go with one of the newer models, you'll definitely like the red circle in the middle of the pan that lets you know when it is at the right temperature and ready to start cooking. When making something like pancakes or crepes, the temperature of your frying pan makes all the difference.
The only thing you need to consider is whether or not the non-stick coating is something you should be concerned about. T-Fal pans are coated with their patented coating that has been known to scrape off and burn off under high heats. That's why you have to use plastic or wooden utensils with it, because you don't want the coating to wear off. If you're concerned about that you should compare these pans to the newer pans that use ceramic materials that don't cause harm, even at high heats.
Final T-Fal Non-Stick Pan Review
T-Fal non-stick pan is a great thing to have in your kitchen, and you definitely won't regret buying it. It's withstood the test of time and has a very strong following. There are a few people here and there they say it doesn't work the way they thought it would, but the number is so low that it's not really significant enough to merit further investigation. They're getting our Thumbs Up review, but we'd also like to point out that you have several options available in this class.
Our Recommendation
We also recommend going with one of the new ceramic pans that doesn't use the same sort of coating they use to make T-Fal products. The Orgreenic pan got our Thumbs Up rating and is one that we recommend, as well as the Green Earth Frying Pan, also at a price point that gives T-Fal a run for it's money.
It's not as if you have to commit to using just one frying pan, in fact most home have several. You might consider a smaller-sized T-Fal for things like scrambled eggs and omelets, and a larger sized green pan for bigger jobs like sauteing onions and peppers to simmering a marinara sauce.

What do you think? Does T-Fal Non-Stick Pan work or not?