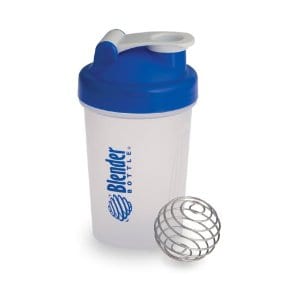 It's a blender, it's a bottle, it's a BlenderBottle! This little invention promises to be that blender and bottle that you knew they could get right. If you're tired of having little bits of powder left after mixing up your preferred protein shake, you'll definitely be interested in seeing how this gadget works. So let's put it to the test and see if it's worth buying.
Overview
The need for the BlenderBottle is obvious to those that have ever mixed up a drink or a shake and been left with residual powder, or made a mess transferring a drink from the blender to the cup, or left behind a lot of the drink on the sides and bottom of the blender. There are shaker cups out there, but those are notorious at not fully blending the shake. There are blenders out there like the Magic Bullet that are smaller sized and blend right into the cup, but it still seems like overkill.
The Claim
The BlenderBottle says that you can put in your favorite shake mix, and it will come out perfectly blended every time. They hit the nail on the head with this question: "Tired of sifting lumps through your teeth?" If you've ever done that you will probably be zipping right to the buy now button and adding this to your cart before you can even stop yourself. It's got to be one of the more annoying things about trying to be healthier.
They may have gotten a little carried away in the brainstorming session to come up with all of the possible uses. Although we see enough value in it just from protein shakes and nutrition drinks, they also say that you can use this for things like pancake batter, salad dressing, and gravy. That's stretching it a bit, especially on the gravy because you don't want to pour hot items into a plastic container.
It's also unclear how you could make a yogurt smoothie with it, unless you didn't use ice and were just mixing yogurt and milk. They mention fiber drinks, and this would be another definite use for the BlenderBottle, as fiber drink are known to be tough to mix up. French Toast batter and pancake batter seems like it would just create too much of a mess, as well as pudding. Keep it simple.
The Cost
The cost of the BlenderBottle is very reasonable. You can get it for less than $10 and it comes in an assortment of colors, so it's just a matter of choosing your favorite. They also have an assortment of sizes as well, so you can get the original size, or opt for a smaller version if you plan on taking it on the go with you. They also have different styles, so you can match it to your own personal preference.
The Commitment
When you're using a shaker cup like this, it is supposed to reduce the commitment of having to spark up the blender every time you want to do something as simple as mix a powdered protein drink. This should represent the shortest distance between getting your shake mixed and in your mouth. It should also be a lot easier to clean it up, as you can simply fill it with water, and a small dollop of dish washing liquid, and give it a rigorous shake. The shaker ball will suds it up good, and you just rinse it off and you'll be ready to go for next time. Since it breaks up the clumps you won't have to struggle with trying to wash them off the side of the cup.
Evaluation
The magic comes from the wire mesh ball that comes with it that makes sure that any of the clumps in the powder get broken up and dispersed throughout the liquid. This is a pretty ingenious little thing, and when you see it you immediately think "why didn't I think of that" but it's OK, because you can still get the full benefit from it. You don't have to try to fish the ball out of there either, as it doesn't obstruct the shake from coming out the bottle.
Some people that said it didn't work mentioned that the lid leaked and the cap wouldn't stay on. With any product that is mass produced and made of plastic you're bound to get a few defective ones per every thousand you produce. These can usually be corrected by returning the product or writing to the manufacturer, and are not grounds for saying that it doesn't work. It seems silly that people would whine about a defect rather than just get the problem solved.
Final BlenderBottle Review
This is a pretty smart idea, and one that seems to fill the gap and provide what was needed for those that take a daily protein or other health shake. Scraping unblended powder off of the sides and corners of your shaker cup is not fun, and it means you're not getting the full amount of the good stuff in your actual cup.
Our Recommendation
The blender bottle is great if you're tired of struggling with mixing your protein shake, either before or after your workout. It's really convenient, and doubles as a good water bottle after you've finished your shake. Compared to the other options you have, it's the hands-down winner for speed, convenience, cost, and portability.
What do you think? Does the BlenderBottle work or not?