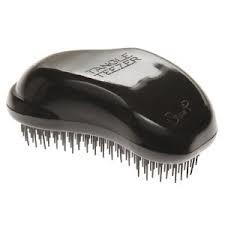 The Tangle Teezer is a line of specially designed brushes that are meant to help detangle your hair, whether it's wet or dry. We're always on the lookout for great hair products at a reasonable price, so the next question is does it really work?
Overview
Hair can get tangled for any number of reasons, and if you have a hair type that is prone to snags and snarls you've probably tried all sorts of things to help get the brush or comb to slide effortlessly through your hair. It's a common problem for those with curly hair, and it can also cause a problem for those with very fine hair. There aren't too many great solutions for getting the tangles out, but there are shampoos, conditioners, and special brushes that are supposed to do the trick.
The Claim
The creator of Tangle Teezer says that you can get professional results by using their brushes, due to the type of materials it's made out of, the way it's shaped, and the unique way the bristles work on the hair. They say that you'll be able to get ready faster, because their brushes won't have you tugging on your hair, and pulling on snarls. No matter whether your hair is wet or dry, it's still designed to give you good results.
The Hype
If you have tangles you won't think that this product is hyped up because it's a real problem and one that would improve the quality of your hair, and potentially your life, if you could just get rid of it. But because of the positive word of mouth it's getting, it seems like more and more people are catching on and trying it out. It's been featured in fashion and beauty magazines and won awards, but all of that pales in comparison to the feedback it's getting from actual users.
The Cost
Ordering from their main website means you'll be getting your totals quoted in British pounds, and you'll have to wait for international shipping. A better way is to order from Amazon, since it's filled by them the shipping is fast, and the prices are very reasonable. You can get the original Tangle Teezer for $10 and it qualifies for free shipping if you add $15 more to your order. When you consider that you might be able to stop buying expensive detangling shampoos and conditioners, this really starts to look like a bargain.
The Commitment
This should definitely reduce the amount of time you spend getting the tangles out of your hair, and it can also help get rid of a lot of the pain associated with yanking on your hair. Most users report spending less time brushing their hair, which makes this worth a try at the very least.
Evaluation
People that try the Tangle Teezer really seem to like it. It has some of the best reviews we've seen for a hair and beauty product in a long time. It's not often that you find a product like this that can be a crowd pleaser, since there are so many different hair types, and so many degrees of hair snaggliness. We usually see quite a split when it comes to beauty products, especially hair products. When things are slanted this heavily, it's usually a sign that they're doing something right.
The Hair Bean is an As Seen on TV product that promises many of the same results that Tangle Teezer does. We ended up giving it a Thumbs Up review and it can be found for $10 as well, so you may want to consider this when making your final decision.
Final Tangle Teezer Review
The Tangle Teezer is getting our Thumbs Up rating, as it has been shown to work in the real world by the large majority of users. There is a strong chance that it will also work for you and your tangled hair, but of course there isn't a guarantee, and each case is different.
One complaint users do have is with the lack of a handle. We were able to find an equally well-reviewed brush called The Wet Brush, that is shaped and looks just like a regular hair brush. It's less than $10 on Amazon, so if you were unsure of whether the TT would work for you or not, or whether you'd have an issue trying to hold onto it, this may be a suitable alternative.
Our Recommendation
At this price point you can't go wrong. With nearly nine out of ten people saying they're happy with it and would recommend it to a friend so the social proof is there. It's a good tool to have in your arsenal, and most owners report using it every day as their go-to answer for tangles.
What do you think? Does Tangle Teezer work or not?