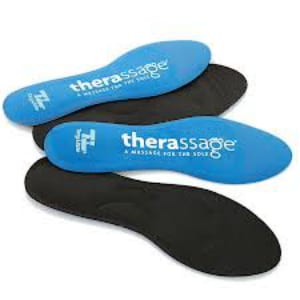 Therassage is a shoe insert that is filled with fluid, which is supposed to give your feet a sort of massage as you walk, due to the fluid flowing back and forth. But how well does this concept work when put into real world situations?
Overview
A pair of tired feet can really bring a halt to your day, and most of the time they crop up when there's still a lot of the workday remaining. If you're looking for something that can bring you relief in this area, day after day, you may have tried a lot of products with limited success.
The Claim
Therassage claims that their inserts are like a "massage for the sole" a cute play on words that promises much-needed relief for tired feet. They call this Advanced Liquid Technology, and say that it floats your feet so that it absorbs the shock from walking around. They also claim that there's a lifetime guarantee on these, and if you ever have any problems with these you can get a new pair sent to you for just $5.
The Hype
They've got Tony Little as their pitchman for these insoles. You might remember him from such training products as the Gazelle, but he also lends his name to plenty of health-related products.
The Cost
You can pick up a pair of Therassage insoles for around $25 from the Home Shopping Network. You can get two pair of them for $35 which comes with free shipping, putting your total per pair price at $17.50, quite the savings and worth finding a same-sized buddy to go in on them with you, or putting them in two different shoes so you don't have to keep switching them out.
The Commitment
All that's required on your part is to insert the insoles into your shoes. As long as you've sized them correctly they should slide right in and start providing somewhat immediately relief. However, as you're well aware foot pain is typically associated with long periods of standing and walking, so that's when the full benefit of the inserts will come to light. It's the sore feet you don't get that you're looking for here.
You might also have to do some trimming of the edges if you find that you're a little off on the size.
Evaluation
The idea of using inserts in shoes is nothing new, and even Dr. Scholls has gel inserts, so the idea of liquid-filled inserts is nothing new either. These are getting a split review with about the same number of people saying they work great, as those that say they weren't as impressed as they expected to be. It could just be a matter of high expectations and it not quite living up to those, but this isn't a very complicated problem, so you'd hope to see more agreement from those that tried it out.
Within some markets it's common to see half of users disagree with the other half, such as skin care products. That's because there are so many variations of skin that it's hard to get a consensus. But tired feet are usually caused by the same problem, and this should be able to solve that for most users. What we're seeing is that it doesn't.
The lifetime guarantee overcomes most issues with these insoles. If you like them, and anything goes wrong with them, like if they leak the fluid after awhile, or simply wear out, you can get a new pair for five dollars. That means you shouldn't have to buy another pair of insoles for anything more than $5 for as long as you want. So if you get these, and you like them, you're pretty much set. If you don't like them, you get to return them so it's a low-risk high potential reward kind of situation.
Final Therassage Review
We're giving Try rating to Therassage, based on the positive feedback it does get, and the price point. As long as you take the time to make sure that it fits in your shoe just right you should be fine and they should work out for you. A lot of the negative feedback we looked at was from people that complained about the size. Perhaps they forgot that it can be trimmed down, or maybe they ordered to small of a size. Just remember that if you're between sizes or in doubt, go a size up so that you have something to work with instead of needing more than you have.
Our Recommendation
As far as insoles go Dr. Scholls has the market cornered when it comes to what you find in stores. That doesn't mean they're the best, it's is simply the result of years and years of product placement and advertising. So if you've already tried them and are looking for a viable alternative, it only makes sense to turn to something that you won't find in stores but might be able to help you.
What do you think? Does Therassage work or not?