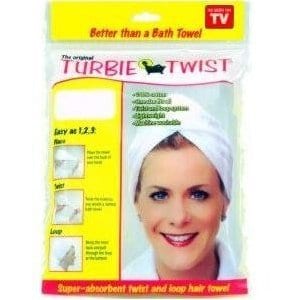 You are supposed to be able to use the Turbie Twist as an alternative to a traditional towel on your head. They try to make the case that the old method of drying your hair and keeping it up is obsolete, and that they have the answer. It's hard to argue that using a towel is perhaps not the best method, but plenty of women still use it because a better way hasn't come along yet. Can this really be it, or will you end up going back to the standby of an ordinary bath towel?
Overview
Up until now there hasn't really been a better alternative than using your bath towel to wrap your hair up while you finish getting ready. Of course, it has major drawbacks, the biggest being that bath towels are big, thick, and heavy. They can cause neck strain if you wear them on your head for too long, and they don't do a necessarily great job of whisking the water away from your hair. So although it may prevent you from dripping water all over the place while you're beautifying yourself, it's never been an ideal solution.
The Claim
The Turbie Twist claims that it is super absorbent, that it stays in place without coming undone, is lightweight, and can replace your ordinary bath towel for the task of forming a turban on your head. By using this they say you can expect to spend less time blow drying your hair, and end up doing less laundry because you won't be using your big bath towels as much. Since this is something you'll be using every day, it's not hard to see that this really can produce cost savings, as well as time savings.
The Hype
A lot of people are finding out that this works, and are telling their friends about it. This is the good kind of hype that a company loves to receive. It only makes sense because it solves a problem that many women have, and there aren't a lot of other products competing with it. They seem to have gotten everything right with this, as far as the material and design goes. It's got a pretty foolproof way to put it on, and to keep it in place.
The Cost
The price is another great feature of the Turbie Twist. You can get a 3-pack for $15, so you'll always have one handy when you need it.
The Commitment
Since this is designed to replace your ordinary towel, it needs to be easier to use, quicker to use, and provide a better experience all around. Putting this on is pretty easy, because it has a loop in the back of it that secures it in place. With a regular towel you have to come up with your own way of fastening it which usually involves making it tighter than you'd want it to be.
Evaluation
The Turbie Twist goes on pretty easily, and since it only has one function, it is tailor-made for what it does. A bath towel is not really designed to wrap your hair up, its primary function is to dry your body off. With something like the Turbie Twist it doesn't have to worry about performing any other tasks for you. This means that it has no wasted material, and is perfectly sized for the job it does.
It gets overwhelmingly positive reviews from tons of users that have tried it, and they all say basically the same thing that we found for ourselves. It just plain works, so it's one less thing for you to think about when you're getting ready for your day or a big date.
Since it's made with microfibers, it's really absorbent while also being lightweight. It also means that it dries quickly between uses so you can use it on consecutive days without having to wash it, or having to use it partially damp from the time you showered before. The lighter weight is perhaps its best attribute, because the small muscles in your neck can get cramped and kinked when you make an awkward motion with your head and you have the extra weight of the towel on it.
Final Turbie Twist Review
We really like the Turbie Twist and have given it our nod of approval. There's not much to dislike about it, and it lives up to all of the claims it makes. It stays in place really well, thanks to its loop in the back. We also like that it gets your hair really dry, even after wearing it for just 10 minutes. The longer you wear it, the drier your hair gets, so you'll have to find out what the sweet spot is so you know when to take it off. For some hairstyles you want your hair to be a little more damp than others, and with enough attempts we'll find out just how long you need to keep it on to get your hair just right.
Our Recommendation
Definitely grab a Turbie Twist, or two or three. They definitely come in handy, and make a great addition to your other bathtime accessories. Once you have it on your head, you'll immediately see just how heavy ordinary towels are compared to something like this. It might take you a little while to get used to not have to constantly adjust a towel, or have a towel come undone so many times.

What do you think? Does the Turbie Twist work or not?