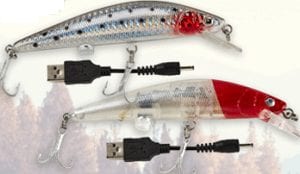 As we all know most everything that we do today is assisted with some form of electronics, so why should fishing be any different? If you are into fishing then you are going to find the Twitching Lure to be quite intriguing, and you will hope that the fish do too.
Overview
The Twitching Lure is an electronic lure that will twitch, flash and buzz so it attracts the fish you are trying to catch. It is rechargeable with the use of a USB charge cord.
The Claim
The company claims that the Twitching Lure works equally well for both fresh and saltwater fishing.It is comprised of sound, light and movement, all of which fish find intriguing.
The Hype
It is a legal electronic fishing lure so you can boost up your tournament wins perhaps with the added edge of having a lure such as the Twitching Lure. It is perfect for night fishing as it lights up in the dark.
The Cost
You can expect to pay $19.99 for the Twitching Lure along with $6.99 for shipping and handling.If you add an extra $6.99 for the shipping and handling you will get a second Twitching Lure free.
The Commitment
There are some old school fishing enthusiasts that feel perhaps we are going too far with the electronics, especially when it comes to hunting and fishing. They believe that the fair game opportunity is becoming too one sided. Then there are others that believe if there is anything that is going to help them land the"big one" then they are all for it. You need to decide which side you are committed to.
Evaluation
The concept seems to be good and really the Twitching Lure is just making an old fishing technique more modernized. The old style fisherman will jig his lure trying to create the illusion of an injured piece of bait. This new lure just performs the same action with less work.
Final Twitching Lure Review
We are going to give the Twitching Lure a thumbs up rating. It doesn't matter whether we think it is fair play or not, there is just no getting away from electronics. So if you are okay getting the big catch of the day electronically then go for it. However, if you feel there will be more satisfaction with your catches that are done with traditional bait and lures then stick with that.
Our Recommendation
Checking out on what is on the market today to helping you with your fishing adventures really does no harm. Surely there must be some products that you use that are not part of the fish habitat to help you with your catch. It could be something as simple as scented bait. If you are one of these fishing enthusiasts that like to fish on the spur of the moment then check out Pocket Fisherman. This is a great spur of the moment resource.
What do you think? Does the Twitching Lure work or not?