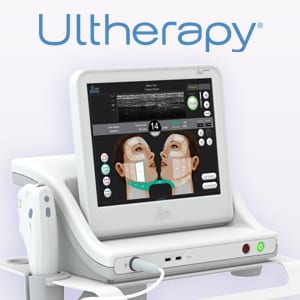 You may have seen Ultherapy featured on a number of daytime talk shows and wondered if it really could work as well as it's shown to. There are those that swear by it, and those that say it didn't work for them and even that it was very painful. But what everyone is really after is finding out whether it works and can provide enough results to justify the price.
Overview
As technology advances, so do the number of ways we're coming up with of defying gravity and turning our nose up at time. These days they've figured out how to take ultrasound and make it useful for something other than scanning inside the body. These are techniques that just 50 years ago would have seemed like science fiction, and just a decade ago no one had thought of yet. This also means that no long term studies have been conducted on how this effects the skin down the road.
The Claim
Ultherapy claims that you can tighten, tone, and lift your skin without the need for surgery, using ultrasound, but at a frequency that provides penetrating heat which allows the skin to produce new collagen and firm itself back up. They flat out say that they're not in the business of duplicating the results you'd get from a surgical procedure, which is a bit refreshing since many anti-aging pills and creams out there promise just that. They're saying this is the choice for those that aren't quite ready to go all-in on a traditional face lift, or that don't need that much help fighting time.
The Hype
This was featured on the television show 20/20 by Barbara Walters in a segment where they were detailing the different ways that cosmetic surgeons are avoiding putting patients under the knife. It shows a woman that experienced positive results, but it was unclear how many times she was treated, and how long it took her to get the results. It was also shown on Good Morning America, as well as The Doctors and The View. Showing up on just one of these shows could have generated enough buzz, but all three have provided a certain amount of hype because it's being hailed on each program.
The Cost
The cost of the procedures will vary depending on the look you're going for and the gap between where you are and where you want to be. Many users have reported spending several thousands dollars in their overall treatment plan, but this is an instance where you'd have to get an accurate quote directly from them.
The Commitment
You have to be willing not only to commit to the investment, but also to show up and for all of your treatment sessions and suffer through the pain that does come with it. You might not be able to find an office near you, and if this is the case you'll have to drive yourself to your appointments. The good news is that the treatments are outpatient procedures and you'll be able to drive yourself home when you're finished.
Evaluation
You have to remember that what you're evaluating Ultherapy against is your other options in regards to results, price, pain and recovery time. In that regard it definitely seems to be a winner over conventional face lifts, and a more plausible way to fight the signs of aging than creams and lotions. Face lifts are still more expensive than this, and take time to heal before being able to make their debut. Plus they're more drastic so people can tell you've gotten work done. With Ultherapy the results come on in stages with each treatment, making it a more natural-looking process.
Creams and lotions work from the outside in, which may work but will require months and months of daily application and may only result in a mixed bag of results. Ultherapy is applied directly to the areas that you're most concerned about, so you have more control with where the focus is made. From what we could determine the results can last for several months after you reach your desired look, with only maintenance trips required after that.
Before and after photos are such an outdated way of showing proof because most people are skeptical that the pictures were not doctored, or that the people depicted in them were not given some sort of special treatment, or were given another procedure altogether. But they must still be effective because many skin care clinics and other products still show them as evidence that their procedures work. It would be nice if they would provide before and after videos, and show the person being treated as this would be much harder to fake and would show the face from different angles.
Final Ultherapy Review
Ultherapy is getting our Thumbs Up rating, as the majority of clients report being satisfied with it.
Our Recommendation
If the cost doesn't throw you off, this seems to be one of the better ways to go about getting a more youthful appearance. Just be sure to check reviews on your local office to see what people are saying about that location specifically. Like any other procedure out there there are better doctors than others, and some will have more experience than others as well. In the right hands this seems to be a true cutting edge technology that works for the majority of those that go through with it.
What do you think? Does Ultherapy work or not?