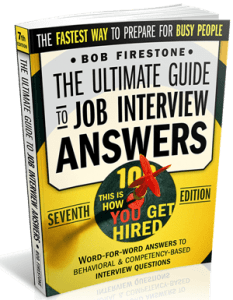 Now that we are ending another year many people are starting to think about what the next year is about to bring. For a lot of people they are focusing on finding a job, and in this regard they may need all the help they can get, so we decided to take at look at the Ultimate Guide to Job Interview Answers, to see if it could help.
Overview
The Ultimate Guide to Job Interview Answers is a Ebook that provides the answers to a whopping 177 potential questions that can arise during a job interview.There may be several different ways that you could answer any one of these questions,but the challenge may be is there one response to each specific question that is more likely to land you the job? It would seem that the answer is yes, at least according to the author of this job landing resource.
The Claim
According to the promo material surrounding this book the reader is going to learn some very important job question answering techniques. These will include how to present your job experience in the right manner, how to calm the job interview jitters, and talk about your strengths and previous employment success so that it counts in this interview. This is just a few of many claims that the promoters of the Ultimate Guide to Job Interview Answers is offering.
The Hype
The supporting material for why you should buy this Ebook all evolves around the big issues that surface during a job interview, which one of the major ones is getting your nerves in check. You may indeed have all the right answers but being confident enough to get them out is another matter. The book promotes its ability to help you with this. Then the second concern is keeping the information you are offering through your answers in an informative and factual well with a response that is well organized. The book basically has the ability to build your confidence in yourself which will go a long way in promoting a successful job interview.
The Cost
The Ultimate Guide to Job Interview Answers has regularly been offered for $69. but you may find a promotion that is currently offering it for $39. While this seems like a fairly decent price if it can help you land the job you are after, it also includes a lot of additional bonuses that could help you even further.
The Commitment
If you are of the type of nature that you would buy a book like this then merely flip through it and set it aside, then its probably not going to do you much good. You have to become intent on following through with your purchase action and thoroughly read both the Ultimate Guide to Job Interview Answers, as well as the additional bonus books you will receive with your order.
Evaluation
All too often a lot of emphasis is placed on how to find the right job for those looking for employment, but lacks pertinent information outside of the resume presentation and CV. All of these important necessities can be well executed, but if a job applicant falters in the interview then the chance of landing the job can be reduced significantly.
Final Ultimate Guide to Job Interview Answers Review
We are going to give this guide a Thumbs Up rating, because we truly feel that the job applicant can use all the help they can get with getting hired. As mentioned there are lots of resources for finding jobs like the Snag a Job resource we talked about in another review, and presenting the written material that can land the job interview but not a lot of help for preparing for one of the additional aspects of getting hired which is the job interview itself.
Our Recommendation
We recommend that you take a personal approach to learning what is contained in the Ultimate Guide to Job Interview Answers. There is a lot of information contained in this Ebook, but you want to take from it and focus on those areas that you feel are going to help you the most and are pertinent to the particular job that you are seeking to be employed for.
Official Website: The Ultimate Guide to Job Interview Answers
What do you think? Does the Ultimate Guide to Job Interview Answers work or not?