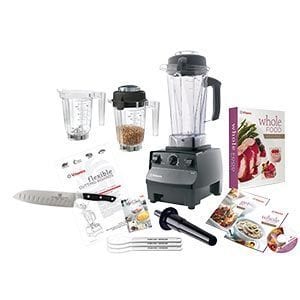 The Vitamix 5200 is pretty much what comes to mind when you think of a professional blender. It is able to blend anything, and in addition to that it can be fitted with several accessories so that you can make soups, grind up grains for breads, and of course do all of the other tasks you'd expect from a food processor. But does it deliver enough to justify its price point? We look further into this question to find out whether there's enough value here to recommend it.
Overview
A top-quality blender is the cornerstone to any well-stocked kitchen. The more your blender can do, the more you can do as a chef, or a wannabe chef at least. This blender is loaded with tons of features, and will expand your realm of possibilities as far as what sort of foods you can make, how quickly you can make them, and how great they turn out when everything is properly blended. But don't worry, you can still take all the credit, and you don't have to let anyone know it was a blender that did all the heavy lifting.
The Claim
The Vitamix 5200 says that it propels its blades up to 240 mph, so pretty much nothing can get its way, and whatever you put into it is going to get blended. They say that their newest model features a 40 ounce pitcher that is BPA-free and designed in a way that creates a sort of vortex so that the ingredients you are blending end up bouncing up and down into the blade. This creates the effect of everything getting blended equally, and prevents the blender from jamming up on one big piece of food, or blending thicker ingredients over thinner ones.
They give this blender a seven-year warranty, so if anything should go wrong with it you won't have trouble getting it fixed. This is the kind of service you expect from a blender at this price point. You should be buying your way into high quality that will give you several years of trouble-free operation.
The Hype
A lot of people say that the price creates some hype for this product, and wonder how people can justify spending this kind of money on a blender, when there are other blenders that seem to get the job done at a fraction of the cost. The other hype comes from the reviews that this gets, they are so glowing you'd think they are endorsed, or fake, but they're not.
The Cost
The Vitamix 5200 can be found from $570 on Amazon. Some say this is very high, but others say that it comes out to be the same as buying 10 $50 blenders over the span of ten years. What's more, you'll be able to have a top of the line blender for all of that time, instead of settling for the sword of run-of-the-mill results you get from lower-priced models.
The Commitment
This should actually reduce your commitment for many different recipes that call for ingredients to be blended, chopped, puréed, or minced. It can also get you thinking more creatively with all of its capabilities. You might start to make your own freshly prepared salsa, homemade soups made from scratch just using the blender, smoothies and mixed drinks become really easy, and you can even make sorbet and ice creams with it. So while things are easier for you, you might be spending more time in the kitchen than you currently do.
Evaluation
It's hard to wipe the smile off the face of people that own the Vitamix 5200. This is a blender that doesn't leave much to complain about, and actually lives up to most of its claims, and exceeds expectations in many instances. It is not everyday find a blender that can also double as a juicer, soup maker, and if you buy the right attachments a grain grinder for making homemade breads.
Showing the Love
It's not every day that you find a product that gets so much love lavished onto it. But it's not too surprising if you've ever tried one of these blenders. They are pretty amazing, and you quickly see that there is a good amount of craftsmanship, and high-quality materials being used here. It just seems like it comes from a company that takes pride in their work, and puts their reputation on the line with each blender they make. It's a feeling that you don't normally get these days, with so many products being designed with the "planned obsolescence" of throwing it away when it breaks down and just getting a new one.
Final Vitamix 5200 Review
The Vitamix 5200 is getting our Thumbs Up review. This blender walks the walk, and chances are high that you will love it just as much as the majority of owners that already know how well it works. Many people wonder if the price is justified, and we can say from experience that it is. The price is something that you pay one time, but the blender is something that you use all the time, and can actually get you started off on a healthier lifestyle of green smoothies, fresh healthy soups, and juices of all types.

Our Recommendation
This is one of the best blenders that is available to the public, and trying it out is believing. We recommend it fully, but if you're not quite ready to jump on board with it, but still want a great blender at a price you can swallow, try out the Ninja Kitchen System 1200, which also earned our Thumbs Up rating, and
What do you think? Does Vitamix 5200 work or not?