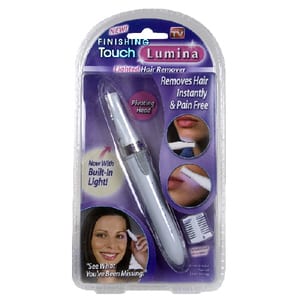 The Finishing Touch Lumina Hair Remover is claiming to light things up so you can see what you've been missing. It is a cross between an electrolysis tool, and a razor, because it says that it removes the hair without any pain, but is using a blade to get the job done. So how well does this mini trimmer work at getting rid of that stubborn or hard to reach hair?
Overview
We've all got those parts of our bodies where we just can't seem to get rid of that hair we don't want. It seems that each body part needs its own method of getting rid of hair, because what works on the legs doesn't work on the face, and what works on the face doesn't work on the back. It's all just a big mess, and can be tiresome and frustrating trying to deal with it.
The Claim
Finishing Touch Lumina Hair Remover claims that it "erases" hair you don't want, right on the spot. Because of its size they say that it is great to use on small, finite areas like knocking out unibrow, getting rid of that dreaded upper lip hair, handling delicate areas like bikini lines, and any other place you need to remove hair that isn't a very large space. They say that the head pivots, so you can get those hard angles more easily, and since it's cordless you won't be tying yourself up trying to get to awkward places.
They say that both men and women can use this, and that is pretty portable, being able to go with you where you need it, like to the gym, or at work. They say that the technology used here is so cutting edge that you can use this even after you put on your makeup, and it won't mess it up.
The astounding thing is they can get all of this done with just one ordinary AAA battery.
The Hype
Getting rid of unwanted hair is on the top of most people's to-do lists. Companies recognize this and they all try to come up with a way to be the best at getting rid of it. However, there hasn't been one product that has been hogging the spotlight, so the position is still open to be filled.
The Cost
Finishing Touch Lumina Hair Remover is $10 at Amazon, and includes the trimmer with its cap, a brush to use with it, and eyebrow comb, and even the battery.
The Commitment
Since this claims to get rid of hair instantly, you don't have to wait for a long time to see the results, and you don't have to go through many sessions or treatments to get the hair off. That being said, you will be the one that is responsible for getting rid of your hair, so there is a little bit more commitment than having it professionally removed at a salon.
Evaluation
The Finishing Touch Lumina Hair Remover is getting mixed reviews across the board. There are just as many people that say it works and they love it as there are people that say it doesn't work and hate it. There are people that have come back and said they've had it for over a year and it's still working fine, and there's others that say it's junk and it broke down after just a few uses. Whenever you run into a product like this, where feedback is so mixed, it can be daunting because you don't know whether or not it will work for you.
The good part is that at this price point it's not the end of the world if it doesn't work. However, at this price point if it does work you're getting a nice fix for a reasonable price. In that regard, it's not so much of a risk to try it out, and see which side you fall on.
Final Finishing Touch Lumina Hair Remover Review
The Finishing Touch Lumina Hair Remover has too much positive feedback for it not to work. However, there are enough complaints about it to raise suspicion as to whether or not it does all it says it can. You can chalk some of the negativity to user error, where people are trying to use this on parts of the body that it really isn't made for. As long as you stick to the small areas, and the fine hair that can be removed with other methods, it should shine. It's really not designed to tackle big jobs like a hairy back, legs, or any other larger surface area.
It's got a very small head to it, and it is specifically designed to take care of small areas that other methods don't really work well on. For example, you might get a waxing treatment for your back or your chest if you're a guy, or your legs if you're a woman. So you wouldn't want to use something like this on those parts.
We're giving it a Try rating, mostly due to the low cost of entry, and all the positive reviews it has received saying that it works, and that it works over the long term. It will most likely work on at least one area you have in mind, but just don't think that it's the total body solution.

Our Recommendation
The best way to get rid of unwanted hairs to do so permanently. Sure, it's more expensive on the front end, but on the backend the time savings and cost savings from having to buy more and more products and spend the time to apply them more than make up for it. We found one good hair removal product that we're recommending: the Silk'n SensEpil. It's an at-home hair removal process that gets you pretty close to the same results you get from professional treatments, but in the privacy of your own home, and on your time table.
What do you think? Does Finishing Touch Lumina Hair Remover work or not?