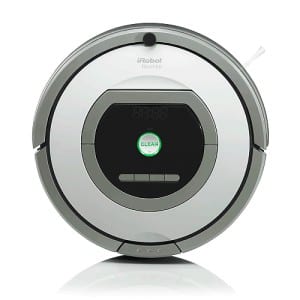 The iRobot Roomba 760 is one of the more advanced models in the Roomba family. These vacuums sure are fun to watch the first few times you let them roam free in your house. It probably is the closest we'll come to seeing flying cars and jet packs, so at least we got one thing to marvel at, albeit not a big game changer in the grand scheme of things. So how well does this robotic vacuum get the job done?
Overview
If you're used to vacuuming your floors by hand, you might have to assimilate to a life of no more vacuuming. It may sound strange, but some people have trouble letting go of this long-established routine. But after you see the sort of job it does, and realize that it did it on its own, you'll quickly change your mind about how much you need to be involved in all sorts of cleaning projects. Combine this with other automatic devices, like an electric toothbrush and you start taking lazy to a whole other level.
The Claim
The iRobot Roomba 760 is supposedly easy to use, you just have to press one button and it goes to work. It's supposedly smart enough to know where the extra dirty spots are, and will go over them repeatedly until it gets them properly clean. They've designed it with a protective bumper which means that it can bump up against obstacles around the house and it won't mar the surfaces. It can store a good amount of debris, including hair and lint so you won't have to continually empty it.
iRobot claims that this can be programmed so that it cleans at various times during the week, and you can even set it up so that each day has a different time. It can work even when you're not at home, see you can return to a freshly vacuumed house.
The Hype
These vacuums get a lot of hype because they're pretty much the only thing on the market that is attempting to do what they do, and is pulling it off so successfully. They make it into mainstream media like TV sitcoms, and other talk shows because of the novelty factor. They are pretty much ripped from the pages of classic novels that dreamed of what the future would be like, or episodes of The Jetsons where houses clean themselves and we don't do much anymore.
The Cost
They aren't running a charity over here, and the iRobot Roomba 760 is priced at $450. You might think that this has to be topping the charts price wise, but in actuality it is not the most expensive vacuum that they sell. You can get models that have all the bells and whistles for an extra $150
The Commitment
The biggest selling feature of a Roomba is that your vacuuming obligation is pretty much taken down to zero. With the set and forget sort of technology we're dealing with here, it makes you look at vacuuming in a whole different light. This can be one chore you can check off your to-do list, without actually doing anything.
Evaluation
Since the iRobot Roomba 760 has a low profile, it goes where you can't, or don't want to, like underneath beds, underneath sofas, chairs, tables, and other things. This means you get those areas clean but you don't have to exert any effort to do so.
What People Are Saying
The overwhelming majority of people have tried this model of said that it does a great job, and that it is actually fun to use. Some have even said that it works great on pet hair, even though there is a special pet hair model that you can buy that works even better than this one.
Final iRobot Roomba 760 Review
IF you've got the means, the iRobot Roomba 760 is a superb choice. It is important to remember what you are buying here, because for as well as it works, there are more powerful vacuums to be had at this price point. What you are getting is the convenience factor of not having to vacuum yourself, and the feeling of living in a future society, minus the jet packs.
Some people seem to miss the point of a Roomba, and say that this vacuum isn't worth it because upright vacuums that you control yourself do a better job of cleaning up. However, they do make these models pretty powerful, so it could be a psychological issue where they feel a little guilty for not actually contributing to the cleanup process. Perhaps some people need to have the kinesthetic, tactile feel of doing something to believe that something has gotten done.
But the proof is in the pudding, and all you have to do is open up the dust compartment to realize that this vacuum is not just good concept, but is actually executing very well.
Our Recommendation
Roombas are a lot of fun to have, and once you get used to watching it go, and the novelty wears off, you are still left with a good vacuum and a pretty clean home once it's done doing its thing. Could you maybe cleanup a little more dirt and dust with a Dyson model at this price? Probably. But you wouldn't have as much fun, and you could even start to dread using your Dyson at some point, because the novelty of the Dyson brand wears off as well.

What do you think? Does iRobot Roomba 760 work or not?