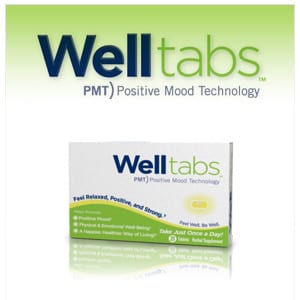 Welltabs are supplemental tablets that say they can help to improve your mood and overall sense of well-being. It's important to try to feel as good as you can, but can pills like these do the trick, or is this just a case of the placebo effect?
Overview
Feeling good involves a nice balance between your body and mind, where your mind is concentrated on positive thoughts and your body is in good condition and firing on all cylinders. Perhaps you've had moments or days where this was the case, while on other days and at other times you feel less than tip-top.
The Claim
The makers of Welltabs say that their supplement simply makes you feel good. They trademarked the term Positive Mood Technology and that the ingredients they're using have been established as being able to help reduce the amount of stress you have, while calming down your body and mind. They say these ingredients also help you feel better both on a physical and emotional level, giving you more energy and helping you to feel stronger. Overall they say the end result is that you're feeling more positive with a greater sense of wellness.
The Hype
The hype is that this is a pill that is basically saying it makes you happier and can have a trickle-down effect in all areas of your life. Stress is part of the human condition, at least the modern human condition, and all of us experience it in one form or another each day. So they have a very broad market to go after, and almost anyone would benefit from it if it does what it says it can do.
The Cost
There are a few different ways to order Welltabs. You can take them up on their sample offer whereby you pay $4 to have them ship you a two week supply. They say that there are no further charges to your card if you go with this method. You also have the ability to buy a 4-month supply for $120 and this includes free shipping. There are numerous reports from a few years ago stating that the ordering process is not as straightforward as you'd expect, and that customer service is a big hassle, both not being able to get through to someone, and having them tell you you won't be charged but then you do anyway.
The Commitment
If these work they'd be something that you'd want to supplement with daily. After all, if it makes you feel as good as they say it does why wouldn't you want to feel your best each and every day?
Evaluation
They really drive home how Welltabs have a lot of research behind them and how each ingredient is used for a specific purpose. This is to help stamp out the idea that this is just a random mix of herbal ingredients that was thrown together and marketed as an anti-stress formula.
Their website states quite clearly that "you'll never be charged anything else for your sample" and that you "don't have to return your sample" which are two things that buyers were saying happened in the past. They have in capital letters that it is a SAMPLE and not a trial, so there shouldn't be any automatic charges showing up because you're not taking a trial, but rather sampling the product to see if you want to buy.
Anytime so many people say that a company is a scam, but it's still doing business several years later, we have to check it out to see what the real story is. This is because many people will complain of charges even if they were told it would happen if they don't cancel, and also because there seems to be a lot of fake shill reviews on the positive side. We'll come back on here with our hard-hitting report when we get more data.
Final Welltabs Review
Overall, Welltabs is getting our Thumbs Down rating, based on the overwhelming number of people that said it did nothing for them and the large number of reports that they simply charge your credit card and make it hard to cancel the trial. To be fair many of these reports are from several years ago, which is why we're giving them a try to see if they've made any changes to the product and the ordering process.
At the time we placed our order they referred to it as ControlTabs and made it sound like it was a pill that you would take to lose weight. But the description of the product was listed as Welltabs so we'll see what shows up, what the pills actually do, and what charges are actually charged to our card and update this post accordingly. In the meantime we'll be keeping a close eye on our bank charges to see if anything comes through, and an eye on the mailbox to see when they arrive.
Our Recommendation
Stress has been linked to almost every disease out there, so it's important to manage your stress levels and do whatever you can to feel relaxed, happy, and positive each day. It will not only help you live longer but it will allow you to enjoy life more. These pills may not be the miracle answer that they try to make themselves appear to be, but that shouldn't stop you on your quest to feel good and use supplements to help improve both your mind and body.
What do you think? Does Welltabs work or not?