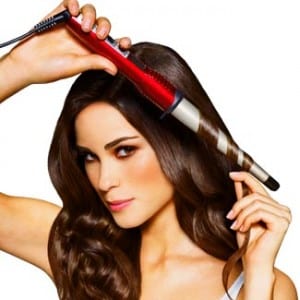 The You Curl by ConAir is a way to get the curls you want without using a traditional curler, and without the clip. The clip is responsible for giving you those crimps in your hair that kind of spoil the look of the curls. These can be a major source of frustration because it can mar up your look, and force you to re-curl certain areas again and again. So is this really the solution for loose, sassy girls?
Overview
Hair is one of the most fussed over parts of the female body. If you've got great hair you like to show it off, but if you are genetically doomed to bad hair days, you wish it would cooperate, just once. No matter which side you're on, you would appreciate a styling tool that saves you time, hassle, and provides the styles that all the celebrities are wearing without having to go to the salon. There will always be upgrades being made to the kind of styling tools we use for our hair, and the You Curl is just one step on this evolutionary ladder.
The Claim
The You Curl doesn't have a clamp, and it's shaped like a barrel so they say you you won't get the kinks that you normally do with a regular curler. It is made out of a special ceramic so they also say that you won't get frizz or static with your curls. One feature that most people enjoy is that it heats up in just half a minute, and can get up to 400 degrees, so no matter what type of hair you have it should be able to give it a good girl.
They also say it's easy to use because it automatically shuts off after an hour, so you won't have to worry about leaving it on and causing a fire hazard. They also allow you to control which setting you put it on, so you can adjust it to your hair type, or the style that you're going for.
The Hype
The beauty industry is always hyping up these sort of products, but they also enjoy a word-of-mouth buzz when they're proven to work. By giving you the kind of curls that the models and celebrities have, You Curl is generating its own excitement level among users.
The Cost
You should be able to find the You Curl for less than $30 at online retailers like Amazon.
The Commitment
Old school curling irons do take a long time to use, and usually provide you with mixed results after much frustration, cursing, and hair pulling. With the You Curl you should have less trouble getting the look you want, and be done in less time because it provides more consistent results.
Evaluation
We put the You Curl to the test and were pretty pleased with the results. One thing that we liked about it is that it is evenly heated throughout the length of the unit, so you don't get any damaging hotspots like you do with other curlers. And we're not alone, the overall feedback that this is getting from others who have tried it is overwhelmingly positive. Some people say it's the best curling iron they've ever used, and others agree that it provides the curls and the look they were going for.
Loose curls are all the rage these days, and they're not very easy to get with an ordinary curler. But those are exactly the kind of curls that this makes, so once you get good with it, you will be able to quickly style your hair and be ready to go in no time.
What To Do About the Ends?
One drawback that we found, and that was noted by others is that it's not very easy to get the tips of your hair. Because your hand is required to hold your hair where you want it while the device is doing its job, you can't hold the ends up to it, because you risk burning the tips of your fingers. What ends up happening is that the tips of your hair don't get treated, and so you'll have a curl all the way until the last inch or so.
There are a few different solutions, we recommend using a curler brush as you blow dry, and before you get started with the You Curl, so your ends will already have a curl to them. Some models now include a 3 finger heat glove with this so you can hold your hair right up to the unit and not worry about burning yourself, and get your entire hair length curled.
Final You Curl Review
We really like the You Curl because it makes quick work out of an otherwise complicated task. If you are notorious for taking forever to get ready to go out, this could help you redefine yourself as someone that's always ready. If your boyfriend or hubby is always waiting impatiently as you try to beat the buzzer, this might even help your relationship. Or you could keep your new tool a secret and use that extra time you save for some me time. You'll look so good they won't mind waiting!
Our Recommendation
If you have fine hair this should work great for you, and if you're just tired of having the crimp left in your hair from using an ordinary curler, this will give you the loose style curls that are pretty popular now, without looking like you tried very hard to get them.

What do you think? Does You Curl work or not?