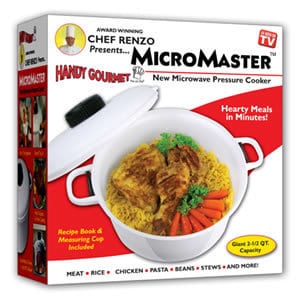 MicroMaster bills itself as a microwave pressure cooker, but can it really provide the sort of results you get from pressure cooking foods? It's been on the market for nearly 20 years now, and it is still essentially the same exact product, almost as if they're still trying to sell the original batch they produced. So does this really work at creating entire meals in just minutes, or will you be left wishing you had put your money towards a real pressure cooker?
Overview
This bowl has been around since the 90s, and it looks like it hasn't changed much since then. Perhaps it was an impressive item back in its heyday, but now that the Internet is here people can do their research and find out exactly how a product works before they buy it. Plus it has to compete with other meals-in-minutes products like the George Foreman grill, which doesn't involve the microwave at all. More and more, people are trying to avoid using the microwave as new research shows that it saps food of any nutrients by irradiating it. This makes it a hard sell at a time when people are spending extra to get all natural and organic foods.
The Claim
MicroMaster claims that you will get the same sort of results that you get from a convection oven, only by using your ordinary microwave. How a bowl can transform a regular microwave into a convection oven is the thing that isn't really explained. In their old-school infomercial they said you could make a three-hour stew in just 15 minutes. They said you could cook all sorts of meat in it simply by microwaving them. They claimed that all you had to do was dump your ingredients into it, put it in the microwave, and without stirring it occasionally foods would come out ready-to-eat, and not stick to the bowl.
Because it's non-stick and dishwasher safe, they say it's easy to clean, and that it's guaranteed to provide the results you want or your money back.
The Hype
The hype comes from anyone thinking that this could pass off as a pressure cooker. It is simply a microwavable bowl, and not much else. They say that the magic is in the handle, where you can twist it and adjust it according to how much pressure you want, but it seems more like a gimmick than anything else.
The Cost
When it first debuted the MicroMaster went for the made-for-TV price of just $19.95. Now it can be purchased for about $10 from various online stores.
The Commitment
This would make your life easier if you are only cooking for one, or a couple, or if you just want to make a simple dish without breaking out the frying pan and heating up the stove. However, just realize that you probably won't be able to make an entire meal with it, it's best used for side items, which can be a help when the stove is crowded with other sides and the entree.
Evaluation
The MicroMaster pressure cooker is nowhere near an actual pressure cooker. It's designed to look like a pressure cooker, but it doesn't have any of the functionality that you'd expect to see from one. A professional grade pressure cooker is designed to keep its insides at a designated pressure point, and not let things dip below that level. What MicroMaster does is simply creates a seal on the bowl which can be accomplished with any microwave-safe container that comes with the lid. The only difference here is that the MicroMaster's lid won't melt from all the steam accumulating inside, as it lets out enough steam so it doesn't cause a problem.
We find that this is a great microwave-safe bowl that produces consistent results for things like rice, chicken, and anything else you typically toss in the microwave rather than cook on the stove. It's particularly good at making rice, because of all the steam it traps inside, the rice comes out looking and tasting good. It's also a lot quicker than other methods of cooking, because you don't have to wait for the stove to heat up, or water to boil, you can just put your food in a bowl, put the bowl in the microwave, and you're good to go.
There isn't a lot in the way of directions on how to use this, like cooking times or recipes, but a quick Internet search reveals hundreds of recipes specifically designed for this. In fact there's a community over at iFoods.tv that is all about MicroMaster recipes and how to cook properly with it.
Final MicroMaster Review
MicroMaster doesn't live up to the claim of being a pressure cooker, but if they would've set their sights a little lower and said they are a pretty good microwavable bowl they would've hit the nail on the head. By following the recipes found online you might be surprised with the level of complex meals you can apparently make with it.
Our Recommendation
The first thing you need to do is get your expectation level on the right plane. If you are thinking that you are getting a professional quality pressure cooker for $10, you're going to be incredibly let down. However, if you think you're getting a durable, reliable, microwave-safe bowl that you can use pretty much daily, you're probably going to be pretty happy.
What do you think? Does MicroMaster work or not?