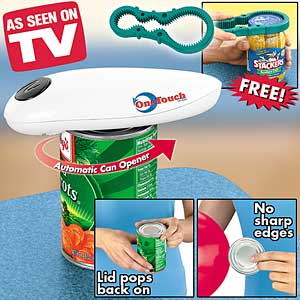 The OneTouch Can Opener is supposed to be able to open a can all by itself, with just one touch required on your part. If you've ever twisted your wrist the wrong way using a manual can opener, or cut your finger on the sharp lid edge left behind from an ordinary electric can opener, you'll appreciate that someone out there is trying to fix this small but recurring problem. So did the OneTouch company get it right with this, or does the search for the perfect can opener go on?
Overview
Opening cans has long been a problem that companies have tried to solve, with spotty results. For a long while all that was available was a manual can opener which required a lot of wrist strain and effort, and would often leave jagged edges on the lid. Next came the electric can opener, and most people thought that this finally solved their problems, as you just needed to press and hold the button down while your can rotated and the lid was removed.
Then another generation of can openers came out that said they were better because they didn't actually punch into the lid, they undid the seal and took the lid clean off. They said this was a better way to go, because it was safer by not leaving sharp edges behind, and also because it didn't cause pieces of metal shavings to enter the can, and contaminate your food. They also said it was healthier because there wasn't a chance for the lid to fall into the can, getting whatever bacteria was on the top of the lid into your food.
The Claim
The OneTouch Can Opener claims to be an automatic can opener that can be used with literally one touch. They say that you won't have to struggle to open a can anymore, and that the unit itself moves around the can, and knows when to stop. This is an opener that undoes the lid, so you end up with no sharp edges, and no metal bits left behind. Because it only uses two AA sized batteries, you can opt to use rechargeable batteries, saving you money, and helping the environment.
The Hype
The hype is that once you see this thing in action, you kind of want one. It is a pretty novel idea, and solves a lot of inherent problems with opening a can either manually, or with an ordinary electric can opener.
The Cost
The OneTouch Can Opener retails for $20, but you can get it for a bit less at Amazon.
The Commitment
The major pitch here is that this is one of the easiest ways to remove the lid from a can. It should pretty much take you out of the equation, and let you get to other things going on in the kitchen. It's a great thing to have when you're making something like chili, that requires many cans to be opened all at once, you can set it on one can, go do something else you need to do, and when you hear it stop, you can put it on the next can.
Evaluation
After seeing a friend of ours use the OneTouch Can Opener we just had to try it out for ourselves to see if it really works that way consistently. Now that we've given it a full review, we are pretty happy with the results and can give it our thumbs up. Other users also sing its praises, and the ones that don't seem to be reviewing a totally different product altogether. It's important to remember that some companies out there are unscrupulous, and will send off to places like China to produce identical replicas of the product, and try to sell them at a lower price.
There's simply no way that the model we tried could get negative reviews, or have people saying that it doesn't work. Just be sure that you go through an official sales channel when you get this, and don't try to save a few dollars by getting it at a suspiciously low price. The original model works great, and does its job just like you think it would. As you can see from the video above, it works just fine and popped the lid off with very little interaction on our part, and without making a mess by dropping the lid into the broth.
Final OneTouch Can Opener Review
We're pretty pleased with the performance of our OneTouch Can Opener, and are giving it the nod of approval. When you review as many products as we do, you get a knack for spotting the real from the fake. This product is made well, and has a lot of technology built into it for something so small and relatively simple. The device actually "knows" when it's on the can, and gets ready for action. It then somehow knows when to stop, and knows how to crawl around the can without tipping it over and causing a big mess.
Our Recommendation
If you're struggling with something like arthritis, or you just can't get the same amount of torque that you could from your hands, you definitely want to grab one of these for around $20. You'll never look back, and you won't have to stress about opening a can ever again. It may seem like it solves a small problem, but be surprised at what an upgrade this really is.

What do you think? Does the OneTouch Can Opener work or not?