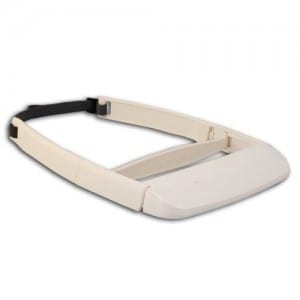 The YumaLite may seem a bit odd at first glance, but it's designed to keep your spirits up during the grey, sunless months of winter. This would be a welcome relief for those that have tried other therapies that didn't work, or that have found some success with light therapy, but don't use it as much as they should because it limits mobility. So let's see how well this stacks up against traditional therapies.
Overview
Winter depression is a documented condition, and has been dubbed seasonal affective disorder, aptly acronym-ed as SAD. They say in their informational video that up to 90 percent of people that live in climates where the days get shorter during the winter will be effected at some level. It only makes sense because it's cold outside, activities are limited, there's less sunshine so you're getting less Vitamin D, and winters seem to go on and on with no end in sight, leading one to think that the cold and blustery days will never end.
The Claim
YumaLite claims that it can replicate the good feelings you get from being exposed to natural sunlight. They mention the circadian rhythmic which can get out of whack when the sun doesn't rise until well into the morning, and sets in the late afternoon. You might feel like you're not getting a full day in, which can effect your moods and lead to further depression if not checked. By reintroducing light into the equation the theory is you are giving the body what it needs, and what it naturally gets at other times of the year.
The Hype
Of course it's impossible to duplicate the power of the sun in a portable device, and they're not claiming that this light will replace the loss of Vitamin D or give you the warming feeling of a sunshiney day. There isn't much hype involved, as this is a documented case, and light therapy has already been clinically proven to provide positive results, so they only big claim they're making is that they've made it portable, which doesn't require a big stretch of the imagination, as technology is allowing us to make things smaller and more user-friendly.
The Cost
YumaLite is $112 shipped to your door. It comes with a 30 day money back guarantee, and since $100 of that total is the product price you'll get most of the purchase price back if you're not happy with it. The price for a standard light therapy unit can be well over the $100 mark, and these don't provide the same feature of being able to walk around or sit wherever you want.
The Commitment
You'd have to commit to wearing this on a daily basis through the times of the year that you know you're most susceptible to not feeling your best. Since traditional light therapy has you sitting in front of a the light source for a half hour to an hour this would allow you to go about your day as usual, or not be confined to one area of your home. In the promo ad they show people using it while watching TV, or reading a book in their favorite chair.
Evaluation
One way to use this would be to help yourself wake up. If you need to rise before the sun it can be hard to get up and get going when it's dark as night outside. By exposing yourself to the light your body will recognize that the day has begun and can start its daily processes, including elimination and digestion. At night when the sun goes down at say 5pm and you still need to get things done, this can be a way for you to stay active and focused for a few more hours as your day winds down naturally.
The technology for light therapy has already been established to be an effective solution for seasonal affective disorder, so the real marvel here is that they've managed to put it on a headband so that you don't have to be parked in one spot in order to get the benefits. If you've already used light therapy in the past with success you'll likely find that same success in this portable device. If you're just starting off trying to find a cure for the winter blues this could be a way to help, but as with any new therapy you won't know until you try.
Final YumaLite Review
Whether or not you've been diagnosed by a doctor as having SAD, or you've just noticed that you don't feel like yourself during the winter months, the YumaLite is definitely worth trying out. For those that are tired of having to sit in one spot during their therapy treatments this could allow you to get on with your day and still reap the positive benefits. Some people might shrug off feeling blue during the winter as just something that comes with the season but there's no need to settle for less than feeling good all the time.
Our Recommendation
It's important that you feel good all year long, and it's really not your fault if the seasons are making it harder to do the things you love to do, or are full of gloomy looking days. At this price point the value is there if this can turn even a few blue days into better ones and allow you to function at your best.
What do you think? Does YumaLite work or not?