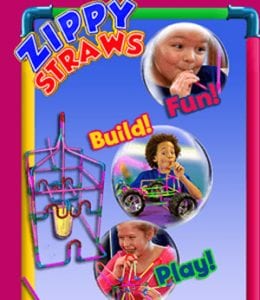 Getting the kids to drink things that are good for them isn't always easy. Trying to get that glass of milk or juice into their daily diet may have just become a whole lot easier with Zippy Straws.
Overview
There is no reason why kids can't have fun when they are doing something good for themselves like finishing off their healthy beverages. Zippy Straw makes this a whole lot of fun. It is a kit that is comprised of 80 pieces which are straws and connectors. The kids can join the straws together to make a wonderful vehicle to consume the liquid that is in their glass or cup. The straws are made up of four different bright colors. The connectors are comprised of five colors that allow for the connecting of two to five straws. Included in the kit is a guide for building some delightful straw shapes.
The Claim
The company claims that Zippy Straws can create hours of fun. They have a leak proof seal so no worries about a big mess. They says they are BPA free and are easy to clean after each use.
The Hype
The marketing hype is focusing on kids having tons of fun with the Zippy Straws. This impresses the adults who will be responsible for making the purchase. Everyone wants to keep the kids happy and the graphics in the promo material really zero in on this. Then from the parent's point of view, having something that is going to entertain the kids that doesn't cost a fortune or makes a big mess, is the widely received message here.
The Cost
Zippy Straw Kits cost $10. plus $5.95 shipping and handling. The kit includes 80 pieces, plus the Zippy Straw guide, and as bonus you get the Zippy Straw eye glasses. If you want to pay another $5.95 you will get a second set free.
The Commitment
The Zippy Straws is probably not something you are going to want to let the kids use every time they are are going to consume a drink. If you were to do this in the morning before school for example, you would never get them out the door. So you are going to have to set some ground rules here. You also don't want to give it to them just as play toy either, unless you are going to clean them right after. They are going to be consuming some of their liquids from these which means putting the straw in their mouth. You want to keep them sanitary.
Evaluation
Zippy Straws when used at the right place and time can be a great thing to have. One of the hardest liquids to get the younger kids to drink is water. A lot of kids will drink anything but this. Water of course is good for them and it replaces a lot of the sugar drinks. This may be the ideal solution. Just make the deal that you will buy the Zippy Straws if the kids will restrict it to be used with water only.
Final Zippy Straws Review
We are going to give the Zippy Straws a thumbs up. As we said it is a great way to get the kids to consume more liquids, especially water. It would be ideal to have a couple of kits on hand so when you have company with youngsters they have something new and different to do. It would also be a great activity for a birthday party.
Our Recommendation
Writing reviews on kid's products is one of our favorites. We have done several in the past like the Funky Lunch. This is a product that also focuses on getting the kids to consume food that is good for them in a healthy way.
What do you think? Does Zippy Straws work or not?