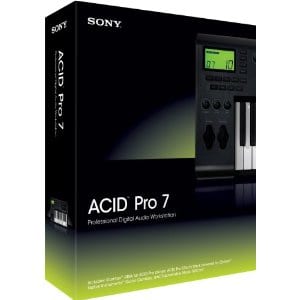 Sony's ACID Pro is a music making software package that will let you create your own tracks, either for your own enjoyment, for use in videos, or to potentially sell. It's in its seventh incarnation and it's getting good reviews across the board, so we had to look further to see what people like about it, and if there are any drawbacks to getting it.
Overview
If you've ever gotten a catchy beat caught in your head and thought about being able to create your own, you probably did a bit of research into how it's done. Of course the beat makers and artists that are already successful have very expensive music studios with all of the mixing boards and equipment to get the job done, but how about when you're just starting out? There are actually a ton of different software packages that can help you get this done, and they come at a fraction of the price of setting up your own recording studio.
The Claim
Sony claims that their ACID Pro software is a professional music workstation that allows you to compose, record, mix, and arrange different audio tracks. They say you can record multiple tracks, and that it lets you perform MIDI sequencing. Other than that the claims are pretty understated, with the way Sony normally pitches their products, they simply show what it does and leave the rest up to you without making outlandish claims or selling the sizzle so to speak.
The Hype
The Sony brand adds some hype to this product because there are some people out there that are verified "Sony Nuts" and will get most anything with the logo on it. They've built up their name to be synonymous with electronics, music, and movies, so it's understandable that they would be able to create software that helps to create professional grade sounds. There's also a lot of people reporting that they really enjoy this software, and that it has everything you need, including a fair amount of sample tracks and a library of sounds you can use.
The Cost
You can find ACID Pro for $300 or less. It's offered for less at Amazon. In the software world that price is just about right, but you have to compare this to other beat making software that goes for quite less. It does come with the Sony name on it, so it might be considered more professional but still isn't exactly what the pros use to make their beats. They also let you download a trial with certain limitations, which would give you a good idea about its bells and whistles.
The Commitment
IF you're musically talented beat making might come more easily for you, and also if you're used to using software like this. If you're not too computer savvy, or you have no musical background, it's going to require some time put in in order to get familiar with everything it can do, but if you're serious about taking this to the next level, it's worth the time that you invest in it, and you'll be developing a skill that could actually take you places.
Evaluation
ACID Pro gets great reviews, and users have complimented it on being a very comprehensive package that lets you create a wide variety of music, both beats and other melodies. Unlike a lot of other software out there, this one has some history to it, with over a decade of updates and upgrades, so you know that you're getting something that has been real world tested, improved upon, and has a loyal following that keep getting the upgrades. When you look around at some of the competition, you'll see software in its first release, or maybe the second version.
Whether you're a fan of Sony, or just looking for a top quality beats making package, they seem to have gotten it right with this. Common compliments include the big library of sounds that you're able to mix and play around with to create something unique. Without a starting piece of clay it's tough to make a final sculpture, so getting a good base of sounds is important.
Final ACID Pro Review
We're giving ACID Pro our Thumbs Up review. Based on all of the positive feedback, the long history of consistent and meaningful updates, and the Sony brand name backing it up, this should be able to allow you to make a lot of different musical creations. The only hangup you might have is on the price, as there are other packages out there that don't cost as much, but you have to keep in mind that there might be a reason for this, and there is something to the old adage that you get what you pay for. This is a time tested and market tested software package that is sure to deliver.
Our Recommendation
This is a bit pricey if you're just dabbling your toes in beat making and not quite sure if it's something you're going to enjoy or not. You can download the trial and give it a spin, or you can opt to go with a less expensive beat making software package that comes with a 60 day money back guarantee, something like Dr. Drum. This will let you try out the entire system with no limitations to see if it will become your new hobby or perhaps a new money making endeavor.

What do you think? Does ACID Pro work or not?