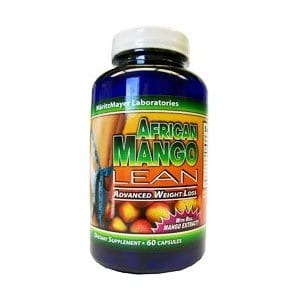 African Mango Lean is one of many different African mango products that have popped up in recent years. The reason is that African mango has made the rounds as the big diet trend that you're missing out on. Of course it has been claimed to be a celebrity diet secret, and have no side effects, and be all-natural. But can something like this work for everyone?
Overview
The backstory on African mango is that it really does come from a plant that is native to Africa. They extract the parts of the plant and fruit that have been shown to help with weight loss, and put it into pill form and presto, you have a diet pill sensation. It's amazing what they'll come up with next, as it seems that any fruit or vegetable with any sort of sign that it does anything can be manipulated into a dietary supplement. No doubt one year from now there will be another previously unheard of fruit or vegetable based weight loss aid that is all the rage, but as of right now is not on anyone's radar.
The Claim
African Mango Lean says that it can stop the growth of new fat cells, and that it can lessen how much leptin your fat cells secrete. They say that all you have to do is take their pills twice a day for 2 and a half months and that you can lose up to 28 pounds. They say that much of that weight ends up coming from the waist area.
The Hype
Dr. Oz is known as something of a hype machine, nearly instantly creating a buzz for raspberry ketones. He's also made mention of African mango on his show and said that it is something that can be used for weight loss. Basically, as long as he doesn't warn against something it pretty much is taken as him giving the green light for it. Not only that but other talk shows and news reports also state that this is a good weight loss aid, and before you know it it's a sensation.
The Cost
African Mango Lean is dirt cheap on Amazon, currently going for less than $7 a bottle. You have to wonder about products when they are this value priced. There is something to be said by justifying the quality of a product with an appropriate price.
The Commitment
When you take diet pills like these, you might be tempted to do nothing else and just let the pills do the work. Of course, we'd all love that, but to have a healthy body you should really be doing more for yourself. You might want to take the first week and just use the pills with no exercise or change in your diet. Once you see that you are losing weight you can then add some light exercise and better quality foods, knowing that you are getting an assist with the pills. Of course, this strategy only works if the pills do, which is a big if.
Evaluation
The reviews on African Mango Lean leave much to be desired. Some people report negative side effects like headaches. Others complain that the caffeine that's added to it makes it hard for them to sleep. A true African mango supplement won't include a bunch of additives that can cause these sort of reactions. By refusing to keep it simple they are increasing the likelihood of negative side effects.
Why Diet Pills?
There are many reasons why people turn to diet pills. Either they are fed up with the slow results they get from regular diet and exercise, or they want to get results without putting in the effort. With an all natural substance like African mango, it is easier to justify taking these sort of pills, because it's not as if it's a man-made chemical.
Final African Mango Lean Review
African Mango Lean is getting our Thumbs Down. All signs point to it not working, and being something that could be potentially dangerous. When there are so many other alternatives out there, it doesn't make any sense to go with something like this. Especially when other brave souls have gone before you and have reported that they feel woozy, and that they didn't experience any weight loss from it.
Our Recommendation
You can effectively pass on this product. It doesn't have an once of credibility, and seems like it was simply created as a way to cash in on the AFrican mango craze. There are plenty of companies doing it better than they are. One such company we've found so far is African Mango Plus. It's got the right amount of African Mango, as well as some other ingredients that will help with weight loss without causing you the sort of side effects that people are getting with the Lean pill.
What do you think? Does African Mango Lean work or not?
[kkstarratings_custom_footer]