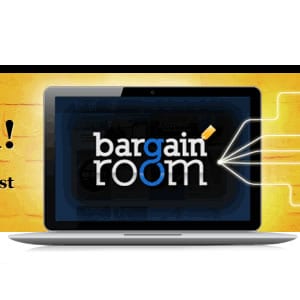 BargainRoom.com is a site that is trying to get people excited to shop. Not that we need much more incentive to go shopping, but they've turned it into something of a game, or at least a game show, with ticking timers and limited quantities. But does this site really save you money on quality items?
Overview
They get the name from the bargain rooms of some shops and stores that have a special room where they put all of their discounted merchandise. It's similar to a clearance section of a store, and they've got a pretty good variety of different products so there's a little bit of something for everyone. It's all broken down by category so you can filter it pretty easily.
The Claim
BargainRoom.com claims that they cut out the middle man and pass on the savings to you. The theory is that because they have such a large base of users they can negotiate bulk deals with suppliers so you benefit from the savings along with the other members at the site.
The Hype
This site is getting more and more attention, but it hasn't quite hit the popularity of sites like Groupon or Living Social. Of course, it's not the same exact concept, as this is dealing more with tangible items rather than local services. The good news is that theoretically the more people that become members, the more leverage they have to get bigger and better deals, so everyone would benefit if this does get hyped up.
The Cost
It's free to sign up with BargainRoom.com, as they are getting their profit from the items you buy, and not so much from your membership. Shipping is a refreshing $3 per item, so you don't have to worry about getting a great deal, but then having them make up for it with an exaggerated shipping fee. When we were looking for flaws in the equation we thought there might be something fishy with the shipping fees, and were pleased to find out that they have a flat rate for all items.
The Commitment
In order to get the most benefit from the site, you'd have to pay attention to the clock to see when the best deals come up. You could use a site like e.ggtimer.com to set an audible alarm to alert you to the next deal being released. Other than that you can peruse the deals on the main page, but the good ones are going to go pretty fast and will be sold out by the time you get to them.
Evaluation
They do have fun things like free raffles you can enter. One of the raffles was for an Amazon gift card valued at $50 for just $1. These don't cost anything to enter, but can win you the right to purchase items at just $1. Looking at some of the products they've got on offer we see a Chef Tony Wonder Cooker for $57 plus the $3 shipping. A quick search shows that you can get this at Overstock for $68 with shipping included. So $8 cheaper than Overstock, that's a pretty good deal.
Another example is a Skytex Skypad for $80. The thing about this one is that they list the retail price at $149, but BuyDig.com has the list price at $119. So they're padding the numbers a bit to make it look like a better deal, and BuyDig is beating them out on this one by offering it for $79 with free shipping. So sometimes you might not be getting that great of a deal, and perhaps you didn't even want a Skytex Skypad when you woke up this morning.
One thing to keep in mind is that they don't necessarily screen their items for effectiveness. They've got a Scram Patrol that gets lousy reviews on the site, so it's possible to buy products that don't work, but to get them at a reduced cost, which isn't really a great deal.
Final BargainRoom.com Review
The concept of BargainRoom.com is a solid one, and everyone likes feeling like they've gotten a deal. Just be sure to do a quick search on Google Shopping to see if it's really a deal or not, and be sure to factor in the cost of shipping. You also have to consider the source when you're trying to compare items, because many sites listed on the search results might not be as trustworthy as Bargain Room, and you might end up with more hassle than you bargained for.
Our Recommendation
The one thing you'll have to try to avoid is impulse purchases. While there are some good deals to be had, it's not like you really need any of the items they list, and unless they feature an item that you were already in the market to buy, you're probably getting things you didn't really plan on buying. It can be a fun site to check in on each day to see if there's something that lines up in your sweet spot, just don't get addicted to it!
What do you think? Does BargainRoom.com work or not?