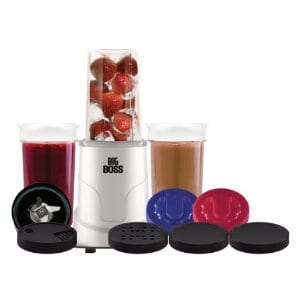 The Big Boss Blender is an individually sized blender that is great if you're living alone or if it's just the two of you. It's for when you don't feel like dirtying up the big blender for a rather small job, or for when you're already using your big blender and need something else blended up real quick. So how does this stack up to other mini blenders on the market?
Overview
The Magic Bullet really turned the blending industry on its head with its novel idea of flipping the pitcher upside down and blending right into a usable cup. That's really where the innovation comes from, and it deserves the kudos. However, just because they introduced the idea doesn't mean another company can't come by and do it better, and that seems to be the case here with the Big Boss. They make a line of handheld blenders as well, but they've designed to give the mini blender a go.
The Claim
Big Boss Blender claims to be able to pulverize ice, and blend through even the toughest foods so you don't have to struggle with them. They say that their 18 ounce blending in serving cups can also be used to store whatever you have left over. Going one step further than anything else out there they say that they can even grind coffee beans for your morning cup of java. It makes a fair amount of claims, but nothing too outrageous, and nothing that it can't accomplish apparently.
The Hype
The hype is that this is simply a version of the Magic Bullet, but it is trying to oust the champ by being leaner in price and meaner in power. Most reports coming back on it suggest that we may have a new champion in the mini blender arena.
The Cost
The Big Boss Blender is around $40 if you can get a good deal on it from sellers on Amazon. It can also be found around the web for about $50.
The Commitment
When you compare this to using your large sized blender it is much more easy to store, take out, and use for tiny jobs like chopping up vegetables. It's also easier to clean, since it's smaller and lighter and all of its pieces can be put in the dishwasher. When you compare it to chopping and prepping your foods by hand, it's definitely less tedious.
Evaluation
There's not much the Boss can't handle, as it can quickly grind up ice into nice flakes for blended drinks, or frozen strawberries or raspberries for healthy smoothies. Mixed drinks are also something it excels at. When you're analyzing the different blenders out there and trying to choose which one to go with, you may not realize it but power is not really the most essential thing you should look for. Some motors out there can be powerful the first few times you use them, but then burn out and lock up rendering them useless. You want to find a blender that is both powerful, yet durable so you don't have to buy a new one in a few month's time.
The Big Boss Blender comes through on its claims and provides a good user experience. It can't help but draw comparisons to the Magic Bullet, and the overall consensus is that it's bigger, stronger, and works faster than the Bullet. So we decided to square these contenders off, and have a champion/challenger one-on-one sort of battle.
The Fight: Big Boss vs. Magic Bullet
Magic Bullet comes with 2 more accessories than Big Boss. The Big Boss has a 300 Watt motor, while the Bullet has a 350 Watt motor. They both feature the upside down blending method, and the serving cup is the blending cup so it's a reduction in how many dishes you use. The reviews for the Big Boss are slightly more favorable than for the Bullet. The Bullet has been on the market longer than the Boss. The Big Boss wins the price war, clocking in at a much better cost. Overall it looks as if we have a new champion, the Big Boss Blender! (crowd cheers)
Final Big Boss Blender Review
The Big Boss Blender gets a solid Buy rating from us. It's powerful, convenient, economically priced, and can do plenty of jobs around the kitchen. They don't make any apologies for looking and working a lot like their biggest competitor, and they have upped the ante and now the ball is in Magic Bullet's hands to try to raise their game up a level. To counter these attacks, the Bullet is now available in a Pro Platinum model which features a more powerful motor and sleeker design, but its reviews do not suggest that it is any better than The Boss.
Our Recommendation
No matter if you go with the Magic Bullet or the Big Boss, you are going to get a pretty good deal, and a blender that can do all those quick and dirty jobs that always seem to pop up with just about every recipe you try. If you don't already have a mini blender you should definitely invest in one, it is an essential kitchen item at this point, and those that have one say they don't know how they got on without one. You won't have any regrets on this one, and at this price point it's time to get off the fence.
Read user reviews on the Big Boss Blender
What do you think? Does Big Boss Blender work or not?