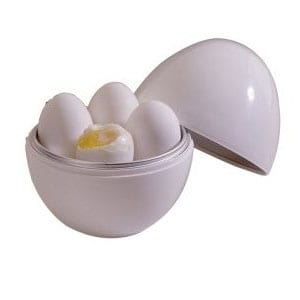 Nordic Ware Microwave Egg Boiler is trying to disprove the theory that eggs plus microwave is a bad equation. Their egg boiler promises to cook hard boiled eggs without the need of a pot boiling on the stove. Most egg cookers try to cook the eggs using traditional methods, just with a twist. This is one of the first models we've seen that tries to use the microwave to make hard boiled eggs. Does it work at pulling it off?
Overview
Many people like hard boiled eggs, but they don't like the idea of making them. This is because it takes a while, and if you're not careful you end up ruining the batch. The taste drives us to keep trying, either eating them straight up, or making deviled eggs, or an egg salad sandwich. They're very versatile, and can make a protein-packed snack or be used in other recipes. So if this Nordic Ware model can get you the finished product without the hassle, it would definitely be a welcome addition to any kitchen.
The Claim
Nordic Ware Microwave Egg Boiler says it can produce 4 perfectly cooked hard or soft boiled eggs using nothing but your microwave. Gone are the days of dealing with a hot steamy pot and worrying about your eggs cracking from hitting the sides of it. It's dishwasher safe and you don't even need to pierce the eggs with an egg needle to get them to come out right. They've basically tried to make the process of making hard and soft boiled eggs as painless as possible.
The Hype
The hype is that this seems almost too easy, since you don't have to turn the stove on, and there's not a lot of room for user error in the directions. If it really can produce results, it's a pretty remarkable product.
The Cost
Nordic Ware Microwave Egg Boiler is $10 at Amazon, which is alarmingly cheap for something that is so well-reviewed and solves a task that many of us wish would be easier.
The Commitment
This will definitely represent a lack of commitment on your part, as all you have to do is load it up an pop it in the microwave, and when it dings they're ready. No more babysitting a pot of water waiting for it to boil, and no more trying to time it perfectly so you don't over or under cook them.
Evaluation
There has been plenty of feedback from actual users on the Nordic Ware Microwave Egg Boiler, enough for it to be statistically significant. The overwhelming majority say that it works, and works well, producing perfectly cooked hard boiled eggs every time. There are a few concerns with how to use it, which we address below.
We also recommend the Egg Genie. Check it out:

The Microwave is Not Your Friend
One thing you should be concerned about is cooking things in a microwave. We are finding out more and more that microwaves are not the best way to heat or cook your food. Perhaps reheating things for 30 seconds or so is fine, but using it to cook your food from raw is pushing it. A microwave is irradiating your food, so even if it does not cause any immediate negative side effects, it is basically sapping your food of any nutritional value. So while your eggs might look and taste like real hard boiled eggs, you are not getting the same thing you would be eating an egg boiled on the stove top.
Eggs-plosions!
A common complaint is that the eggs blow up when you try to cook them in here. This can happen, but you have to read the directions and check what kind of microwave you have, such as how much power it uses. If you just put them in there for the recommended time without checking the wattage, you are gearing yourself up for a fireworks show, egg style. You can adjust the cooking time based on how powerful your microwave is and be all set.
Final Nordic Ware Microwave Egg Boiler Review
The Nordic Ware Microwave Egg Boiler is a surprise hit. It's not every day you find something like this that doesn't appear like it would work, but does. It gets style points for actually looking like an egg, but the important part is that it gets functionality points for actually working. Perhaps its only drawback is that it can only make 4 eggs at a time, but since it makes them so quickly, doing two back to back batches is not a big deal.
Our Recommendation
Grab this unit now! If you're looking for something that combines the old-fashioned way of cooking, but solves most of the problems associated with it, you should check out Eggies. This way you don't even have to peel your eggs once they're done cooking.

What do you think? Does Nordic Ware Microwave Egg Boiler work or not?