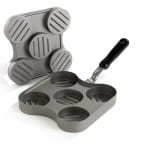 Big City Slider Station is a classic example of a made for TV product that tries to create a need and then fill it. How many times does burger night come up on the family's weekly menu? Maybe once a week at the most. Do we really need a product that solves a weekly occurrence? The manufactures seem to think so, and have already done their best to fill that need.
Overview
Sliders are fantastic and many people enjoy ordering them from their favorite burger joint. They're just so cute, tiny, and tasty! But making them at home is never fun, because it's hard to get the small patty sizes right, and it's hard to make enough of them at the same time for everybody to eat at once.
The Claim
Burger night is a lot easier with Big City Slider Station. First, it makes it easy to scoop the meat onto the press, and then makes it even easier to press the meat into patty form, and cook both sides at the same time. This saves you from having to flip the burgers, which can be a messy task. It also reduces the cooking time.
The Hype
The hype comes in the ad, where they had to come up with as many possible complaints a person could come up with while making hamburgers at home.
Don't you just hate it when you have to form burger patties by hand? They then show someone making an absolute mess out of a package of ground round. This is often done in TV ads such as these, where they show an exaggeration of how bad something is, in order to show how easy it becomes with their product.
Yes, it can be hard to flip a burger, and yes, they can stick and grease can splash up and burn you. But it's not nearly as menacing as they make it seem in the commercial. And there's no guarantee that the Big City Slider Station doesn't come with its share of annoyances and difficult maneuvers.
The Cost
The typical TV price of $19.95 plus shipping and handling.
The Commitment
You have to be committed to having a regular burger night with the family. This might not be the healthiest meal to serve your family, but it's sure to be a favorite, especially with the guys and with the little ones.
You've got to also commit to getting all of the ingredients that go along with burgers, the meat, the cheese, the buns, all of the condiments, and beverages that go along with burgers. It's not the most cost-conscious meal for the budget-minded consumer.
Evaluation
The contraption itself is tinier than it appears on TV. After all, you are making mini burgers so it can't be to big. It comes with a measuring scoop so you always get the right amount of ground beef into the patty former.
You get the bottom piece, this part stays on the grill or skillet, and then the top piece is used to press the meat down, where all the magic happens. The burgers get pressed, both sized get cooked and you're ready to eat.
Make sure if your family is not 5 people full, to invite some friends over in multiples of 5 to take advantage of all the slots.
Does Big City Slider Station Really Work?
Yes, it works as advertised. It creates five fully cooked mini burgers in about 2 minutes, and they're all uniform in size and evenly cooked. Nothing sticks to the unit so clean up is easy, and you can just make a nice production line of burgers so you can feed a virtual army in no time at all.
Our Recommendation
If your family loves burger night, you'll make it really easy on yourself by getting a Big City Slider Station. If your kids invite their friends over for dinner, it'll be a great time for all, just be careful they don't want to stay for dinner every night.
If you don't want to pay the shipping, just stop into a Bed Bath and Beyond or other brick-and-mortar shop and avoid the hassle of paying online and having to pay extra for shipping.
What do you think? Does Big City Slider Station really work?