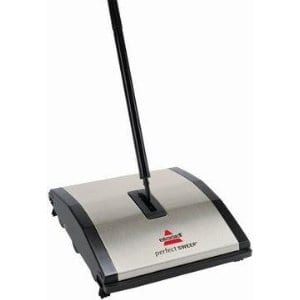 The Bissell Sweeper line-up features some pretty simple designs, with the promise being that this can be a replacement for your broom and dust pan. But they also have some models that push the limits as to what a sweeper can do. For example, their top model has a vacuum capability that not only sweeps but also vacuums up the mess as you go along. But how well do all of these sweepers work, and should you buy them?
Overview
We're going to take a look at what could be considered the best offering from the Bissell corporation in regards to their sweepers. It's the Bissell Perfect Sweep Turbo Cordless Rechargeable Sweeper. This things got all the bells and whistles, and represents one heck of an advanced sweeper. We figure if we're going to to review their product line, we might as well focus all of our attention on the best they have to offer, technologically speaking.
The Claim
This Bissell sweeper says that it's great for quick and easy cleaning, so you don't have to bring out the big heavy vacuum in order to pick up a small spill, or do a quick once over in the living room before company comes over. This is because it's also powerful enough to pick up most anything that can be found on the floor, including stubborn things like pet hair, miniscule things like crumbs, and you can work on both bare floors and carpeting, so you don't have to use two different tools to get the same job done.
They say this has your baseboards covered with two side bristles that get right up against walls, and in corners. They say that you can also convert this into a handheld sweeper, so you can use it in places that you wouldn't normally be able to with a sweeper that doesn't detach from the handle. It also claims to have an easy empty dirt tray, which is pretty much a standard feature on all present day vacuums and sweeper devices.
The Hype
The Bissell name is a strong one, and they've been producing cleaning products for the home for several decades. While this doesn't really create a lot of hype around the product, it does have a trickle over effect of the brand recognition and it creates that expectation that the product should work.
The Cost
This Bissell sweeper, the Perfect Sweep Turbo Cordless Rechargeable, is $40 on Amazon, which means it gets shipped for free. Of course it's one of their more pricier sweepers, and simpler units can be had for $20 or $30.
The Commitment
Keeping your floors clean is a big commitment, but using a product like this one that promises to be able to handle multiple floor types, and multiple job sizes all with one tool means that you should be able to clean your floors quicker, and with less hassle, so you can get back to more pressing matters in your life.
Evaluation
The Bissell Sweeper Perfect Sweep Turbo Cordless Rechargeable is getting moderate to favorable reviews, with more people giving it four or five stars then those giving it one or two. However, what is most interesting is that the negative reviews just don't say it's bad, they say it's really bad. So much so that several people noted that this is the first review they'd ever given a product because they felt so compelled to raise awareness about just how bad it works.
Different Strokes for Different Folks
It's hard to figure how the same product can both impress one group of people, and disappoint another. It could be that one set had reasonable expectations for the product, while the other hyped it up a little too much and then were let down when it didn't live up to what they thought it would do. It's important to remember that this is just a sleeper, and while it might make your life a little easier, it is not going to do the cleaning for you so there's only so much you can expect from it.
Final Bissell Sweeper Review
The Bissell Sweeper family is a very big one, and it seems that the more simple they are, the better the reviews they get. Some of their classic designs get top ratings, but this ultra suped-up model with all the bells and whistles gets a mixed bag of reviews, so maybe they tried to do too much with one product, and they should just stick to keeping it simple.
Our Recommendation
Instead of going with a Bissell sweeper, we recommend getting a Swiffer Sweeper Vac as it is is one of the top rated sweepers and it gets far better reviews than this top-of-the-line Bissell model. The vacuum on the Swiffer model does a much better job at getting up all of the debris you'd want it to, and it uses the same Swiffer pads that put it on the map, and started the whole sweeper craze in the first place.
What do you think? Does Bissell Sweeper work or not?