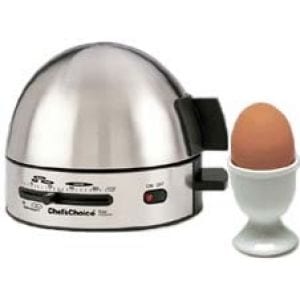 The Chef's Choice 810 Gourmet Egg Cooker is doing its best to revamp the whole process of cooking eggs. If you're fed up with making eggs the way your grandmother used to, this promises to make it a whole lot easier, and take one more thing off your mind. But how well does it really work, and what are actual users saying about how good the eggs taste after using this?
Overview
Before you started going egg cooker shopping you probably didn't know that this is pretty big business. Companies are going hard out trying to convince people that they've come up with the absolute best way to cook eggs. There are microwavable egg cookers, electric egg cookers, accessories that help you boil eggs the old-fashioned way but with a new twist, and anything and everything in between that says they can provide what you really want – the perfect egg.
But it shouldn't come as too much of a surprise, because you're probably aware that making eggs is a hit or miss proposition. Either you get it right on, or you suffer through not getting it right. This could entail having an egg with a yoke that is either not done enough, or done too much. Or perhaps you have to deal with egg shells that stick to the egg and are a real pain to get off.
The Claim
The Chef's Choice 810 says that it can cook up to seven eggs at the same time, just the way you want them done. They say they can cover most any preference, from soft-boiled, to medium, to hard-boiled. One of their unique features is an tray that you can lift out with just one hand, and then run under cold water so that your eggs will be ready for peeling sooner. It's got its own built-in timer, so you can set this, walk away and do other things, and then be alerted when your eggs are done so there's no wasted time, and no trying to keep track of when to turn your eggs off.
The Hype
The hype that all this fuss is just about an egg cooker, and cooking eggs. But finding an egg cooker is not as easy as you might have thought at first because their are many different models, and many different methods that companies are coming up with two cook the perfect egg.
The Cost
Chef's Choice 810 is $40 on Amazon, and gets shipped free to your door. It comes with everything you'll need included, so you don't have to buy any accessories for it. It even comes with a poaching tray so you can make poached eggs.
The Commitment
This should represent a reduction in the commitment level you have to show towards making eggs. In fact, if you are notorious at messing up your batch of hard-boiled eggs this should definitely take away some of the burden.
Evaluation
The Chef's Choice 810 egg cooker is getting pretty good reviews, and users seem pretty happy with the results they're getting. It's especially showing high marks for its ability to cook soft-boiled or poached eggs. Common complaints are that it spills water all over the place, and it can just stop working out of the blue. Others say it's just a complete disaster, and you should avoid buying it.
Side note:
Why not consider Eggies? This is a way to cook your eggs the old-fashioned way, but makes it a lot easier to get the a ready to eat. This is because you won't have to peel the eggs once cooked. Cooking the egg is only half the battle, once they're done, you have to peel off the shell before you can eat it or use it in a recipe. With Eggies you remove the shell before you cook them, so you
don't have to remove the shell
once they're fully cooked.
Final Chef's Choice 810 Gourmet Egg Cooker Review
The Chef's Choice 810 egg cooker gets a solid Try rating. Most people say that it works great for them, but there are a substantial number of people that say it doesn't, which leads us to wonder just which side to go with. At this price point it is unlikely that the product is poorly built, so perhaps some negative reviews are just from defective units. Either way, you will probably end up with a decent egg cooker at a reasonable price.
Our Recommendation
We'd go with the Egg Genie, a well-reviewed egg cooker over this one, as it is basically the same concept at a more attractive price point. It also has more positive reviews, and less negative ones, so it's more of a crowd pleaser and our at-home testing showed this to be a success. The Chef's Choice is a solid contender, but just be sure you've gone over your different options before making your choice.
What do you think? Does Chef's Choice 810 Gourmet Egg Cooker work or not?