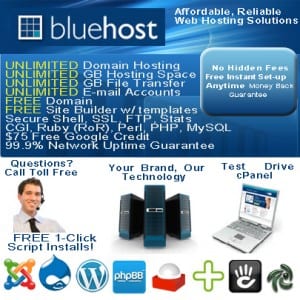 Bluehost is one of the larger web hosts you can go with, and offers an unlimited hosting package that is on par with the features and prices of most of the competitors out there. It can be overwhelming going from hosting site to hosting site trying to decipher the difference between one host over another. Luckily we've done a lot of the legwork for you and are here to give you our findings on whether or not you should go with them. As it turns out they're one of only a handful that deserve your further consideration.
Overview
When your company needs a website, it's also going to need hosting as well. There are plenty of places out there that will host your site for an outrageous monthly fee, but you can avoid these and get your site hosted for a low price each month. If you're new to websites and hosting, it might seem a little daunting at first, but it's not too complicated to figure out, and the support teams at the host you go with will want to help you get set up so that you stay with them as a customer. They can't teach you how to build or maintain a website, but anything that is related to the server side of things they should be able to instruct you on or help you with.
The Claim
Bluehost claims that with their unlimited package you get all the bandwidth you need, as well as all of the disc space required by your site so you don't have to worry about monthly overages, or having your site suspended if you use too much data. They also say that you can transfer files of any size, and you you'll have an unlimited number of email accounts, as well as be able to host as many domain names as you want, all for one price.
Of course it also has the easy to install scripts, you just push a button and in a few minutes you have a new content management system like WordPress, or a shopping cart like Zen Cart installed and ready for you to use or populate with products. These are pretty standard with most web hosts, and make things really easy for you as the webmaster or site owner.
Controversy
Bluehost has made it into the news on a few separate occasions for censoring the websites of its hosting clients. Once was a website owned by a someone that was believed to be residing in what the USA was considering a rogue state at the time. The other was a website that was posting anti-gay and anti-lesbian comments after the earthquake happened in Christchurch, New Zealand. In the terms and conditions it does state that they can remove accounts for any reason that they see fit, so it is up to you to decide whether you feel this is important enough to merit so much controversy. If you are not spreading hate speech or living in a rogue state you should be fine.
The Cost
You can get the cost of Bluehost hosting down to the promoted rate of $5 a month but only if you sign up for 3 years all at once. If you only want to go for one year it's $8 a month. If you only want to go with a month by month hosting plan you'll have to go with HostGator or another host because they don't offer monthly payments. With enough time and research, you'll notice only the slightest change in price between the top 20 hosts, so you have to get cost comparison out of your head. Competition has created pretty standard pricing, and anyone that offers ultra cheap rates might not be around long enough to see the year out.
The Commitment
When it comes to web hosting, you're never locked into any contracts, even if you pay for year in advance. You can get a refund for the time you have remaining, and you are free to move your site or sites to a new host. Typically you'd want to have your site set up at your new host to avoid any service interruptions for your visitors. Aside from any billing issues, there's not a lot that you need to do to set up hosting, aside from getting all of your files uploaded to the server. It's pretty much a set and forget kind of service, unless something goes wrong.
Evaluation
Bluehost scores highly on many different third party rating sites, and they have their fair share of positive reviews from current and previous customers. Of course they also have a ton of people saying that they were unhappy with the service, but every hosting company has this, especially the big ones. When you service so many people there's no way you can keep all of them happy. And human nature dictates that you won't hear from the millions of satisfied customers, just the hundreds of disgruntled ones, so take it with a grain of salt and look at the overall ratings.
Final Bluehost Review
Bluehost is getting our Thumbs Up review as one of only a few hosts that you should consider before making your final decision. It really comes down to a matter of personal preference, and finding the host that fits your style the most. When it comes down to features and price, it's pretty much apples to apples across the board. You're going to get unlimited amounts of disc space and bandwidth, as well as all of the side items like email addresses and domains, so you have to choose the one that feels best to you.
Our Recommendation
When it comes to shared hosting, there's really not too much separating one host from another, so you have to look deeper as far as their reputation within the industry, and anything else they can offer that makes them more attractive. With Bluehost it's how long they've been in business, how big they are, how affordable they are, and how good their customer service is. This is a solid choice, and we recommend comparing them on a shortlist with other top hosts.
What do you think? Does Bluehost work or not?