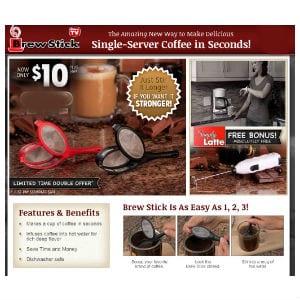 The Brew Stick is a single serving coffee maker that is designed to let you brew coffee on a small scale, and as needed so nothing goes to waste. It looks to be competing with Keurig one-cup coffee makers, so let's see if it can provide the same benefit.
Overview
Coffee makers have gotten a revamp in recent years, and now the trend is moving towards making coffee for just the person that wants it, rather than brewing a big batch only to watch half of it get poured down the drain. With the price of coffee being what it is, it's best not to waste it, and often these single cup options save time and make less waste in the long run.
The Claim
The makers of the Brew Stick claim that it can give you your coffee quicker than a traditional coffee maker, and make it better tasting than instant coffee. They also say that you are in control of how strong your coffee is, because if you want it to be stronger you just continue to stir it longer. They say it's dishwasher safe, so you can wash it as needed and you don't have to worry about it melting or warping. The
The Hype
There's no hype here for coffee lovers that are always in search of the perfect cup of coffee at the least expense. For proof all you have to look at is the multi-billion dollar coffee industry with so many different types of coffee, coffee maker options, and coffee shops popping up all over the country it's clear to see that we're a nation stuck on the java.
The Cost
The Brew Stick is sold on a buy one get another free just pay shipping offer, so your total comes to $24, and you end up with two of them. This takes the starting price of $10 and adds two $7 shipping charges. You also get a Simply Latte electric stirrer that whips up milk for a frothy latte included for free without an additional shipping charge on it. They make a solid point that coffee pods for single serving coffee can cost up to 70 cents each, and that if you go out for coffee in the morning and only pay $2 per cup you're still looking at over $700 a year just in coffee.
The Commitment
They've tried to reduce your commitment level as much as possible here. You don't have to go through the process of brewing a big batch of coffee in a coffee maker, so you can simply start enjoying this as soon as you're done stirring and have added your desired amount of cream and sugar. Scoop, close the unit, and stir it into very hot water and you are cleared for drinking.
Evaluation
The Brew Stick brings coffee brewing down to its fundamental parts, and is essentially what a coffee makers is doing. Now you can take one of those electric kettles, like this highly rated kettle by T-Fal, get piping hot water in a matter of seconds, stir in your coffee using this mesh spoon and you'll have a cup of coffee that tastes like you brewed a full batch, but without the hassle and waiting.
Compared to a traditional coffee makers it's clear to see that this is a faster and superior way to make coffee, but the real comparison should be to the new one-cup coffee makers like those
made by Keurig
. These are set up so that you drop the pod in and set your cup underneath and in about a minute you've got a hot cup of coffee. The draw to the Brew Stick is that you can use whichever coffee beans you want, and you're not roped in to buying their pods, which represents an added ongoing expense of using those brewers.
Final Brew Stick Review
The Brew Stick is getting our Thumbs Up rating. The design makes it very simple to use, and since you use it too scoop the coffee directly into the unit you only need one tool and it's as easy as can be. Since it has the multiple function of also being able to brew tea, other members of your household can use it as well to make what they want. It essentially gives you all of the benefits of a pod coffee system, at a fraction of the cost and without adding an empty pod to the trash every morning.
Our Recommendation
This is definitely worth a try for those that love their coffee, and want to have the freedom of choosing which ground beans they want to use. We have yet to find anything that is quite like this, and that can also steep all different types of herbal teas. It's versatile and simple and there's a high likelihood that you'll enjoy it.
What do you think? Does the Brew Stick work or not?