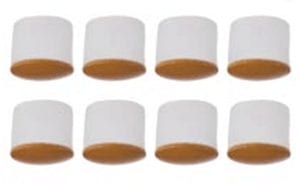 Sometimes its the little things that we use that really make a big difference in our homes and we just take them for granted. A good example is the furniture we sit on and how well the legs are protected from damaging our floors and carpet. This makes a product like Buffies potentially important.
Overview
Buffies are such a simple product that they can easily be overlooked for their potential importance.They are a set of furniture gliders that fit over the legs or bottom supports of your furniture. They protect the floor surface that the furniture is coming into contact with, while at the same time letting you move the furniture by gliding it with ease.
The Claim
The company claims they go on easily and won't fall off. They say that the Buffies don't detract from the look of the furniture as they blend right in with it. They are claiming that they are universal in size so one size should basically fit most types of furniture. They also indicate that they will work equally is well for sliding over carpet.
The Hype
Probably the ease of installation is the big hype here. The Company says moving furniture once the Buffies are installed is a breeze. This is really important for a lot of people who have heavy furniture that they want to be able to get behind to clean.
The Cost
The deal right now is you buy one set and get one set free. A set is comprised of 8 Buffies so you would be getting a total of 16. The cost for this would be $10 plus the shipping and handling which comes to $7.95 for the first set, and $1.95 for the second set. So in total you are paying $19.90.
The Commitment
You are probably going to need at lease four Buffies on each piece of furniture. So with the current offer of two sets then you are looking at having enough for 4 furniture items. You are going to need to choose wisely now where you want to use these. If you are thinking about using them for your dining room table setting then no doubt you are going to need a few more sets.
Evaluation
There are a lot of good concepts that come with the Buffies. Not having to struggle with heavy furniture when trying to slide it and keep it from damaging the floor is a big bonus. Also, take a look at your kitchen and dining room floor. If the original furniture padding on the legs is gone or wearing thin you might be seeing some floor damage or scuff marks. The one concern however, is how easy would the chairs slip if one goes to sit on it. This is often the reason why you see some advertisers market their furniture as no skid or no slip items. You are going to have to weigh out the benefits versus the drawbacks when using them for this purpose.
Final Buffies Review
We are going to give the Buffies a Try/Buy rating. Keeping in mind where they would be best used. Most definitely they seem ideal for the heavy furniture but caution would have to be used for the chairs, or even chesterfields.
Our Recommendation
When you are looking for convenience then Buffies do fit into this category. When looking at, is there really a need for a product like this, then the answer would be yes. We took a look at other products that are supposed to offer the same type of benefits and one of the common types is the felt pads that stick onto the bottom of chair legs. These happen to be a best seller at Amazon. Then we took a look back at the EZ Moves product which has some similarities to it and it has received some favorable comments. So there is little doubt that Buffies is addressing a important around the home need.
What do you think? Do Buffies work or not?