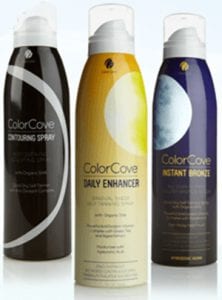 Most everyone absolutely loves the look of a totally flawless tan which the Color Cove system seems to think it can produce. While there are lots of similar tans in a bottle products to choose from, does this product have something that the rest doesn't have? Let's find out.
Overview
This is a 3 part tanning system that comes in 3 spray on bottles and a special applicator. There is the instant bronze which gives the color, the daily enhancer that keeps the color in prime condition and then a contouring spray. It is probably the contouring spray that adds the most attraction for this product as it seems to be a unique approach. You use this to highlight certain areas of your body that you want to make stand out by creating a subtle contrast to the rest of the skin tones.
The Claim
This company is making a lot of claims which clearly point out some of the flaws in similar type products. It states the color will not rub off and that it is easy to use. They say that there is less mess with their product, and what is really important is their claim that there is no tanner odor. They claim that the user will look healthier, slimmer and more toned in just minutes.
The Hype
They hype focuses on all the wants of individuals who love their skin to look it's best with a healthy vibrant looking tan and natural glow to it. They are really focusing on the contour segment of the program by promoting it as giving you a slimmer more toned look. These are two key issues that they have aptly addressed with their marketing material. They have not left out the convenience factor either. It is easy to apply and doesn't rub off. Then they have heightened the hype by indicating the health and safety of using a tanning alternative.
The Cost
This self tanning product is not cheap. In total it will cost you $70. but they do allow you to do this in two equal payments. It comes with a 100% money back guarantee. Now they are stating that they are including the contouring product for free, so in essence you are paying $70 just for the color and the enhancer products. With your order you will also receive the blending tool, a small carry bag to store your products, and access to online tips and hints for using the product.
The Commitment
You are going to have to make a few commitments to get your money's worth. First you will want to review the online tips to be sure that you are applying the product correctly. Then you may want to practice a little to get the perfection you certainly are going to be looking for.
Evaluation
Probably the most appealing aspect of the Color Cove System is the contouring product. If you learn how to master using this product and use in it the right places then you very likely could get a somewhat contoured effect. They also say that it helps to camouflage small marks and blemishes. Aside from this the other significant appeal is that it doesn't have the normal tanning odor that comes with a lot of these products. With there being so much news about the harm that natural tanning does it is making people look for alternatives such as this. There are also tons to choose from and many at lower prices than this particular one. A good example is the Tan Secret which sells for half the price of this particular product.
Final Color Cove System Review
We're going to give this product a risky try/buy rating, simply because of its substantial price compared to its uniqueness. The contour product is really the hook for this group of products. While some of the other reviews are indicating that this a all natural product we have seen no specific indication of this in the marketing materials. They do issue a warning that this product should not be used by expecting Moms or those that are breastfeeding,without their health care provider's permission and it is not to be used on children. These warnings raise some question as to whether the product is comprised of all natural ingredients.
Our Recommendation
We recommend that you really review the marketing material carefully and look beyond the hype. There are a lot of flaws that can occur with these products in general but the Color Cove system seems to have addressed this. You may want to check out some of these hints for using tanning products at webmd.
What do you think? Does the Color Cove System work or not?