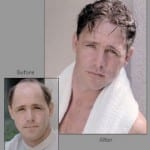 Hair loss is a fairly common problem for men, and many men consider DHT blockers as a possible solution. It has been estimated that nearly fifty million men and women suffer from hair loss worldwide, and many look for a solution as soon as they discover the problem.
Understanding the DHT Connection
Men and women across the world are experiencing run-ins with a new abbreviation.  DHT, whose scientific name is dihydrotestosterone, is the product of a natural reaction that occurs in the body.  In the scalp, an enzyme known as alpha 5 reductase is produced.  As men age, the constant reaction with testosterone begins to create DHT.  This byproduct then reacts with the hair follicles, shrinking them, and causing them to become thinner and thinner until eventually, they fall out.
As you age, DHT become more prevalent, ultimately thwarting any hair growth whatsoever.  Studies suggest that 95% of hair loss can be attributed directly to DHT.  Naturally, as a problem arises and becomes more understood, cures are blasted at the market, looking for something to hook.  The latest fight against male hair loss has come in the form of DHT blockers.
What Will a DHT Blocker Do for You?
DHT is, as far as studies are concerned, of absolute no benefit to the human body.  In other words, if you hinder its production, you won't be causing yourself any harm.  This primary finding paved the way to the most logical hair loss prevention possibility available – blocking DHT production altogether.  As with many things, there are a variety of ways to go about creating DHT blockers.  Different brands of pills are intended to produce the same results, though through different means.
There are essentially four main ways to block DHT from causing hair loss in the market today.  The first way is to prevent DHT from attaching to the hair follicle.  By avoiding the follicles, the DHT will remain in your bloodstream, drifting in a way that is said to be harmless, as the compound hasn't been attributed to any health issues besides hair loss.
As a result, though, there is said to be no further occurrence of hair loss.  Another main way for a DHT blocker to work is through inhibiting the production of the actual byproduct.  This is said to be done in two effective ways, either halting the conversion of testosterone to DHT or by reducing the production of alpha 5 altogether.  The final alleged way to block DHT is through reducing the substances that produce alpha 5 such as cholesterol.
DHT blockers, depending on their supposed methods of producing a similar effect, are made of many different compounds.  The unfortunate part of blocking DHT, though, is that without any further vitamins or treatment, the process only prevents further hair loss. It can't actually do anything to replenish what hair has already been lost.
The Bottom Line: Do DHT Blockers Really Work or Not?
Guaranteed effects are not provided by any DHT blockers out there, whether they are completely organic or not.  It simply is not within modern medicine to prove such results.  However, consumers continue to rely on customer reviews and media coverage to gain some idea based around the myths and facts concerning hair loss.  The reality, as concluded from gathered information, though, suggests that while blocking DHT could help end hair loss, it's hard to tell whether the formulas on the market actually do.
What Do You Think? Do DHT Blockers Really Work?