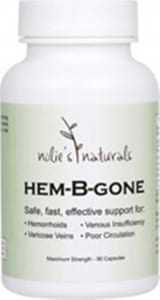 Individuals that suffer with hemorrhoids will be the first to tell you that they are painful, embarrassing and sometimes frightening, especially when they are bleeding. Those that suffer with these will immediately try to find some type of relief. While there are many products on the market for these is Hem B Gone one of those that really work?
Overview
Hemorrhoids are veins that are suffering from more pressure from the blood flow than they can handle.As a result the vessels begin to stretch like a balloon which increases the discomfort and can actually cause them to bleed. Some people have hemorrhoids that are so severe they end up having to have surgery for them. There are some effective products on the market that will help to shrink the hemorrhoids.
The Claim
Hem B Gone has taken a different approach in the treating of hemorrhoids. It is taken as a supplement whereas other treatments are often topical ointments and creams.
The Hype
The hype all revolves around Hem B Gone being a supplement that is eventually not only going to help the flare up of the hemorrhoids, but help to prevent them.
The Cost
You will need to pay $42.64 for 90 capsules but there are promotions and deals from time to time. It does come with a 90 day money back guarantee even if you have used all of the capsules and have decided you are not happy with the product.
The Commitment
A lot of people don't like taking any kind of medications so you are going to have to decide if you fall into that category. Then if you are going to take the Hem B Gone you will have to commit to following all of the instructions.
Evaluation
Hem B Gone is comprised of natural ingredients that are believed to be beneficial as anti-inflammatories. It is believed that these natural ingredients are what tends to the symptoms of the hemorrhoids. It contains ingredients such as Horse chestnut and ginger root, for example.
Final Hem B Gone Review
We're going to give the Hem B Gone a try/buy rating. We like the fact that it contains so many natural ingredients. We also feel that it would be restricted to those who don't mind taking supplements. There is always a possibility as with any product that some could be sensitive to the ingredients even though they are natural. The Hem B Gone has some positive feedback concerning the product. For those who have tried external hemorrhoid products with no success then perhaps it would be worth trying Hem B Gone.
Our Recommendation
Before trying anything to treat your hemorrhoids you should first be properly diagnosed by your health care provider. Then after this if you are going to try any product for relief you should get permission to do so by your health care professional. You have some great choices with Hem B Gone being used as a supplement, or as an alternative you may want to try HemClear. This is a product we have reviewed in the past and it has gotten substantial feedback. It has received 1,694 thumbs up and only 129 thumbs down. That is pretty impressive.
What do you think? Does Hem B Gone work or not?