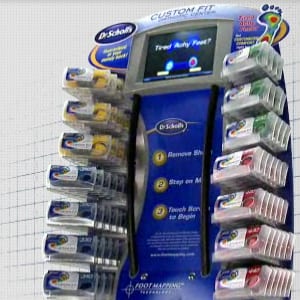 Dr. Scholl's FootMapping is a kiosk that is located in stores and is supposed to tell you which parts of your feet take the most abuse and then recommend the proper inserts based on your unique make-up. This would seem like a better way than just buying a one-size-fits-all type of orthodic, but only if the machine actually works at identifying the right areas that need help. So let's see if it really works.
Overview
People have a lot of trouble with their feet, and there are plenty of products and companies that try to alleviate the pain and pressure felt by those suffering from such conditions as bone spurs, heel pain, or just general aches in the feet. This is especially true if your job requires you to be on your feet for prolonged periods of time throughout the day. This can make even simple tasks seem like a huge burden.
The Claim
The Dr. Scholl's FootMapping approach is attempting to give a customized insert recommendation after you stand on it for the specified time. While you stand on it, it is measuring where the weight distribution is in regards to your feet, and identifying which foot, as well as which parts of your feet, take the most abused. From there they can recommend a specific insert so that you can start providing extra support in areas that need it the most. This sort of analytic approach to correcting foot problems is not something that is new, but they are the first company that has made it available in-store, so you don't have to visit a specialist.
The Hype
The thing about Dr. Scholl's is that they are not shy about their products, and each one has a marketing campaign behind it so that they can build awareness about the product. The promotional ads for their custom fit line of products definitely got its share of TV time, and is still featured prominently at their official site. This goes to show that they are putting a lot of stock in this machine, and banking on it working and people recommending it to their friends.
The Cost
It doesn't cost anything to use the Dr. Scholl's FootMapping machine and get a diagnosis. Once you are recommended specific insert, or inserts, for your needs the actual products range in price from $30 to $50, which is more expensive than their other options. Compared to visiting an orthopedic doctors podiatrist and getting custom built orthotics, this is definitely a more economical way to go. The only question is whether or not it will provide the same sort of relief that you get from a professional, and whether it's far and away a better choice than just buying off the rack for less.
The Commitment
It only takes a few minutes to get your recommendation, so you don't really have to commit too much. Once you receive your evaluation and they tell you which ones you should buy, it's simply a matter of putting them into your shoes and experiencing the difference. You have full control over which shoes you put them in, and you can make the determination whether you want to use them only for sports, or only in your work shoes, or you can put them in all of your shoes so you can have the same level of comfort no matter what you're doing.
Evaluation
Dr. Scholl's has been around for years and years now and they've developed a loyal following of customers. They don't simply rest on their laurels and are constantly improving the different brands that they offer. As technology improves, they've come out with things like gel insoles, and also a more professional grade of insoles and inserts. The mapping technology and the custom fit products they are doing these days represents another step forward in the evolution footwear, and foot orthotics.
Compared to just finding a general, one-size-fits-all, insert, this system does a good job of recommendation of which is have, you don't need. The technology behind the mapping software is nothing groundbreaking, but does a good job of seeing where you put the most pressure while you're standing and also while you're walking. It's almost just as important that they let you know what you don't need, because using the wrong insert will only exacerbate the problem, and potentially cause more pain.
Final Dr. Scholl's FootMapping Review
We're giving the Dr. Scholl's FootMapping system a Thumbs Up review, because it does a good job of splitting the difference between going to a professional, and buying an insert off the rack without any knowledge of what you actually need. The custom fit inserts are more expensive than their traditional offerings, so there's got to be some value added. Since most users have expressed that it does in fact do a good job of matching them up with the proper fitting, we're confident that it's worth the extra expenditure.
Our Recommendation
If money isn't an object, you might want to schedule an appointment with your podiatrist and have them evaluate your feet to find out the best way to treat them. However, if you're looking for a quicker, cheaper way to go, this is one of your better options. You don't have to take a lot of time out of your day, it doesn't cost anything extra to use it, and the recommendations it gives are better than just guessing and choosing something that might not work, or might make things worse.
What do you think? Do Dr. Scholl's FootMapping work or not?