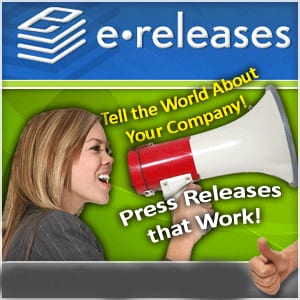 eReleases is a press release distribution service that does things a little differently than some of the more popular ones out there. They stress that it's the level of customer service that they provide that makes them better, and they say each person that works for them is also an editor, and not just a sales representative. So how can you know whether this is the service you should go with or not?
Overview
Press releases can be amazing marketing tools if used properly, or they can have no effect on your business at all, and just be a drain on your expense column if not properly executed. It's a mix of finding the right event, finding the right words, and finding the right distribution channels. You need to get your release in front of the people that are interested in it, and that will give you a call and want to interview you and feature you on their radio or television program, or write up a news piece in the paper or on a blog. So is this really the way to knock out all of these birds with one stone?
The Claim
eReleases claims that they will send your press releases out to actual journalists that are anticipating this kind of information. They are trying to draw a distinction between their service and the ones offered by others. For example, some press release distribution services work more like a news feed, where people that are subscribed to the feed see your headline lumped together with hundreds of other headlines. This means you're not really getting your message in front of an interested audience. But with the eReleases service they are focusing on quality as well as quantity, because they say they have over 100,000 journalists subscribed to their network.
They also offer a writing service as well, making the entire process pretty hands free for you. If you're no wordsmith but you want to get this right, you might want to consider their service, but it's an extra $300, so you might want to consider outsourcing it to a well-rated press release writer on eLance or Guru.
Bring the Hype!
Press releases have been getting a lot of attention these days as a way to increase the visibility of your company, or your brand. A properly executed press release can really put you in the spotlight and be the boost you need to get national attention.
The Cost
The lowest cost packages with eReleases is $300 with their Pro package going for $500. When you compare this to something like PRWeb, you'll see that the biggest packages are both the same price. But PRWeb has an $89 option as their lowest price point, in order to lure in the budget conscious start-ups that can't justify spending so much on a release.
But you have to weigh the cost up against what you're getting. Even though there's no low-cost option with eReleases, this just means that they can't break up their package enough to get the cost down. If you go with their basic plan, you're still going to get the same sort of package that PRWeb calls their Premium package.
The Commitment
When you go with a press release service like this, you first should make sure that your piece is newsworthy. One of the benefits that they say comes with their service is that they aren't afraid to tell you if you should be doing a press release or not.
Evaluation
eReleases is a partner with PR Newswire, which gives them the sort of oomph they need, and makes them a valid contender. If they were just sending it to their own private network, that might be worth the price alone, but when they tap into the larger network, as well as hit up all of the journalists in their own network, they are providing good value for the dollar.
The great thing about press releases is you can easily gauge the reach and effectiveness by using a special address for your campaign. For example, if you are sending out a press release about your company's anniversary, you can set up a special page like yoursite.com/anniversary and you can track all of the hits you get there, and see where they're coming from. If you get the sort of results you want, and you can see that you are getting a good return on your investment, it only makes sense to craft another press release the next time something newsworthy happens, or the next time you make something newsworthy happen.
Final eReleases Review
eReleases is definitely a service you should consider. They've still got that "mom and pop" feel to them, but bring enough experience and have a large enough network to be just as effective as the larger companies. This means you can get the individualized attention that you need, but also have the same sort of reach as going with a service like PRWeb or PR Newswire.
Official Website: eReleases
Our Recommendation
We would seriously consider both PRWeb and eReleases as they are both quality services, but are run a little differently. If you want more of a friendly feel, and want more hand-holding through the process, you should go with eReleases. This makes them a great choice if it's your first release you're sending out, and you aren't sure exactly what to do. You'll get a more sterile feeling from using PRWeb, but it's just because they're so large and they process thousands of press releases daily. You'll get a high quality service no matter which one you go with, so it's a matter of preference.
What do you think? Does eReleases work or not?