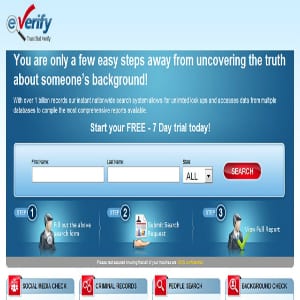 eVerify is an online background checking system that supposedly allows you to take a look at someone's personal information. The thought is that you can check up on a potential babysitter, boyfriend, employee, or anyone else that is raising suspicion. But do these sort of sites work or will you just end up with a bunch of information you already know, or that doesn't even make a difference?
Overview
The idea of doing background checks is nothing new. Employers have been doing it for decades before deciding on making a hire. Casinos are known to run very thorough background checks on their employees, and the FBI even goes so far as to check up on a potential agent's family and friends in an attempt to dig up dirt. But only recently has is been this accessible to the masses, where anyone can pay money to get information on anyone else.
The Claim
The claim of eVerify is that you can dig into someone's social networking activity, criminal records, residential addresses, court records and property records. They say that the end result is you'll have a pretty good overview of what makes a person tick, and be able to uncover some potentially serious items. This sounds good in theory, and basically what you're paying for here is a nice interface with all of the data compiled, organized, an in an easy-to-read format, which is not what you'll get when you go directly to the different sources. For example, searching through public records at courthouses and libraries is, let's just say, not fun.
The Hype
The hype is that much of this information is made freely available to the public, so a site like this is just compiling it into one place. More hype comes from them claiming that you can access someone's social media content. With more and more privacy options being incorporated into Facebook, users can pretty much set it to only display pics and updates to their friends, and not to the public.
The Cost
You can do a one-off search for $20 or you can sign on for $20 a month and run as many searches as you want. They offer a 7 day free trial, but you need to use your credit card if you want to start it. They say you have to contact customer service in order to cancel your subscription. We don't usually like it when a company makes you call or email to cancel. You should be able to cancel directly from the members area. Usually when a company makes you contact customer service in order to cancel, they pitch you on staying on, which is a big hassle.
The Commitment
When you compare this to doing the research on your own and compiling it all into one file, it's pretty clear that this cuts down on your level of involvement. This either allows you to run more background checks in less time, or prevents you from having to spend a few hours trying to gather up all of the different sources of information. So it definitely wins points in the commitment category.
Evaluation
There are plenty of these services available, and like eVerify they all pretty much claim the same thing. Their business model is based on taking freely available information, and putting it all into a nice little package. The result is that they have zero overhead, it's all automated, and in theory should bring in lots of cash, without actually producing any product. It's a nice thought for them, but it only works if people are happy with the level of information provided.
One point that you might want to consider: We ran a check on one of our staff here, and eVerify said that there is a marriage or divorce document available, but he has never been married, so this is not accurate, and seems like a bit of ploy to get you to buy the report. It makes us wonder what other documents and data they claim is available, but then you buy it and find out that there wasn't as much information as they said there was.
Privacy Concerns
Most of the information you'll find here is pretty tame as far as being an invasion of privacy. If someone has something on their public records, it's not as if it's a major secret. However, if you're running this check for business purposes, you should try to respect someone's privacy as much as possible, and try to ignore any information that is irrelevant to the job they are applying for. They could someday be your coworker and it might be awkward knowing things about them that they think are still a secret.
Final eVerify Review
We felt that the information eVerify provides is somewhere between what you can find on your own, and what you'd pay a professional service for. It was accurate, and could be somewhat helpful, but it will vary from person to person, and what your agenda is. The convenience of being able to get information from all over the web, as well as from government sources, makes it worth it in our opinion. But be sure to compare this to other background check services so you can make the best decision.
Our Recommendation
If you've got just one person you have in mind, it makes sense to just go with the one report for $20. But if you're planning on using this regularly, you might want to go through with the 7 day trial and then call them up and cancel after you run the reports, or stay on if you use this for your business. You'd only need to run one search a month to justify the monthly expense. Anything over that and you're getting a good deal.
However, either by buying one or by using their trial, you can get a good feeling on whether the information they provide is worth the $20. It could turn out that it lets you down, and therefore you'd cancel. Or it could be just what you need and then it pays to stay on.
What do you think? Does eVerify work or not?