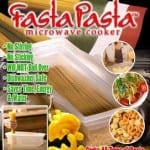 If you love to eat pasta, but hate to make it, then Fasta Pasta probably was designed with you in mind. As the name hints at it's supposed to make the cooking of pasta faster and easier than it currently is. By taking some of the pain out of making pasta, they're hoping that you will enjoy their product and not return it. But does it work the way it appears?
Overview
Making pasta at home requires some forethought and preparation. You have to get the water to boil, and then dump the pasta in. Then you have to remember to stir it occasionally so it doesn't stick together. The worst part is trying to drain it without pouring scalding hot water on yourself, or having it splash back onto your hands and wrists, all while keeping your face clear of the cloud of steam.
The Claim
Fasta Pasta focuses on the waiting. Since you can't add the pasta to the water until it's boiling, they harp on the whole "a watched pot never boils" philosophy and try to tap into the displeasure that people have standing around waiting just to add the pasta, not even counting the time it takes to cook once it's added to the pot.
They also bring up nearly every aspect of making pasta, from carrying the big pot over to the sink, to dumping into the strainer, to scraping off the leftover pasta on the sides and bottom of the pot that get stuck.
The Hype
The hype is that it's all about cooking pasta. It's a rather mundane task and not really worth an entire product, or a review on whether or not it works. By sensationalizing some small problem in modern society, these manufacturers are able to either create a market where one didn't exist previously, or expand a limited market into a broader one.
The Cost
You can't expect to pull in too much from a product like Fasta Pasta. The design alone leaves much to be desired. It's just a plastic box that looks very similar to the disposable Gladware you can get at the local grocery store. Since they know that consumers know that they didn't pay very much to make it, they can't get away with charging too much. It probably costs them less than 25 cents to make and package this unit and it retails for $20.45 including shipping right to your door.
The Commitment
This is one of those products that actually require less commitment in using it than you currently do to get the same results. You're actually expected to do a lot less than you normally would to make pasta, all while getting flawless results. It's a no lose situation.
Evaluation
The tray is meant to be specifically designed to keep the water moving around the pasta so it doesn't clump together.
The custom lid is the only real novel idea here, which allows you to strain the pasta right from Fasta Pasta so you don't have to worry about dumping the hot noodles into another container.
Before you add the pasta the ventilation holes serve as a way for you to measure out angel hair and spaghetti portions so you're not left with a bunch of pasta leftovers.
Does Fasta Pasta Really Work?
This is something that looks like it doesn't work, but actually does. They got it right when they made this one, and it provides the results just the way they are depicted in the infomercial. So if you can relate to all the tragedies they show on why you need a Fasta Pasta, then your life will be transformed when it shows up at your door.
No more having to go to fancy Italian restaurants any time you want really good pasta!
Our Recommendation
You might think that there's no way a microwave can turn out pasta that tastes as good as that made in a proper pot the old fashioned way. But that's what they seem to have done with Fasta Pasta. If you don't eat as much pasta as you'd like because of the hassle and mess, then you should grab a Fasta Pasta immediately and enjoy your favorites more often.
What do you think? Does Fasta Pasta really work?